CARLY SIMON This Kind Of Love Hear Music (2008)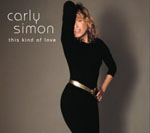 You can't accuse Carly Simon of complacency. Unbelievably, This Kind Of Love is her 23rd, yes 23rd studio album! That said, mention Carly Simon to me and only 3 things spring to mind.
Firstly, her 2 biggest hits - the monumental You're So Vain from her 1972 No Secrets album, and her Bond hit - Nobody Does It Better from the 1997 The Spy Who Loved Me soundtrack. And secondly, the sexually charged imagery of the artwork for her 1975 Playing Possum album.
Which sort of sums up her career. UK wise, at least. That is, although she's been prolific in her output, and there's no doubt she's a 'major artist', she's never quite been able to rescale the heights of those early 1970s successes.
And with This Kind Of Love - her first original album in 8 years - she joins her ex James Taylor, Paul McCartney, and Joni Mitchell as a Starbucks Artist. Hmm.
What can I tell you? It's a beautifully crafted affair and Simon's vocals are well up to par. But it's what your Mum and Dad would have referred to as an Easy Listening album. With a laid back style - gentle South American rhythms with plenty of Spanish guitar work (think Sting meets Antonio Carlos Jobim and you'll get the general idea) it's not about to light any fires.
But hell, it'd be the perfect backdrop to a café latte.
***
Review by Pete Whalley
---
| | |
| --- | --- |
| | Print this page in printer-friendly format |
| | Tell a friend about this page |