CARL PALMER 1PM The Store For Music SFM132 (2008)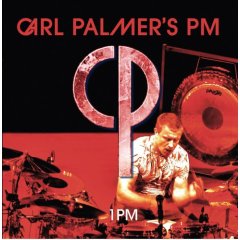 If memory serves me right (and I'm open to correction here), this album was originally released at the turn of the 80s, a Carl Palmer project between ELP and Asia.
A name like Carl Palmer, one of Britain's best and successful drummers, should turn heads and rightly so. So why is the booklet one of the lightest and uninformative I've ever seen (and trust me I've seen loads)?. Hence the guessing. Track listing and publishing details are all you get. Period. Personnel? Date? Nothing.
The music mixes pop/rock of the 70s with a nod at the direction Palmer would take with Asia.
"Dynamite" opens with a rock guitar sound, anthemic vocals, a horn riff in the background; could have been a hit single a few years earlier, or later, but not in 1980. "You Got Me Rockin'" follows in similar fashion, some good guitar work and strong vocals.
The music is good, if a little poppy, and Palmer mixes keeping the drums simple to match with some rolls and other touches that sound a little out of place.
"Dreamers" is one track the guitar is really turned up, and Palmer's drums follow suit.
Some great numbers here, sounds like it was fun to do, but could have been presented infinitely better.
***½
Review by Joe Geesin
www.joegeesin.com
---
| | |
| --- | --- |
| | Print this page in printer-friendly format |
| | Tell a friend about this page |