CAPTAIN BEEFHEART Electricity SPV 42392 (2 CD) (2008)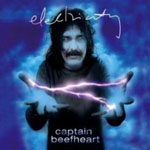 'Electricity' is a superbly packaged Captain Beefheart 2 CD set culled from his early career albums. This cogent re-issue finally gives much of the material a real sense of context, much of which was originally missing at the time of much of the original material's release.
This was particularly so with 'Strictly Personal' which crept out into the UK market on some badly distributed mid price re-issue labels. And as Harry Shapiro meticulously explains in his informative liner notes while much of Beefheart's eclectic was anchored in Delta Blues, once he was let loose in the studio his wild creative abandon conjured up the most challenging and inspiring slice of psychedelia to have come out that most fertile late 60's period.
Of course such an outpouring of creativity comes at a price and Beefheart the artist was as uncompromising as his music was at times impenetrable. This explains the early departure for example of m usicians of the quality of Ry Cooder who contributes to the two of the most bluesy outings, acting as arranger to the formidable opening 'Sure 'Nuff 'n' Yes I Do'- a musical statement of intent if ever there was one - before further adding guitar on the Howlin' Wolf influenced 'Plastic Factory'.
And while there are other gems to be polished, notably 'Drop Out Boogie' - which was recycled a few years later by the Edgar Broughton Band' - and Electricity' on which Beefheart uses his voice an instrument, it is the lesser celebrated 'Trust Us' (Take 6) that pushes the band to the outer limits of their style. If blues was the currency of the early Beefheart career, then this musically angular, vocally angst ridden track is the template for much that followed in his career, climaxing in 'Trout Mask Replica'.
The 'out there' weirdness of 'Trust Us' is as close as you get to the core of the Captain's oeuvre, being red raw and teetering on the brink of chaos, but always coming direct from the heart. The rapped outro delivered over some ponderous (quasi military march style) drum patterns by 'Drumbo' French and Jeff Cotton's painful guitar tone are the stuff that endeared the Captain to his die-hard fans.
Sometimes he delightfully hits the spot and other times not, but the strength of Beefheart's work which was later amplified by Zappa's production work on 'Troutmask' is that everything adheres to a bigger picture. Thus the stop-start instrumental 'Big Black Baby Shoes' is juxtaposed by the heavy riffed, straight to the vein, blues-harp led, 'Gimme Dat Harp Boy'. The latter is surely the kind of essential dirty blues that many of the old school practitioners would love to have written.
Often referred to as a genius, this description of Beefheart is overstating the case, as in my book he never tied himself to the mast long enough for proper scrutiny. Most of his critical appraisal has come retrospectively, and the Ornette Coleman atonal approach of say 'Ta rotplane' and '25th Century Quaker' complete with his unique vocal enunciations were, if memory recalls, lost to most main stream critics at the time.
Years later we can appraise such work in the context of those he later influenced. So while it is true to say Beefheart redefined the blues to his own ends, he did so not so much as a blueprint for others to follow, but as the basis from which to explore his unfettered musical approach.
And while some of his weird tones such as on the closing 'Korn Ring Finger' broach the more academic work of say composer Harry Parch, as the Captain was to say many times himself, his approach to music was similar to that of his own impressionistic painting. And given the fact that many people don't understand modern art Beefheart has always had to live in the shadow of being considered a musical maverick. Either way 'Electricity' is an essential purchase for all you folks out there that like to explore music from the other side of the fence!
****
Review by Pete Feenstra

---
| | |
| --- | --- |
| | Print this page in printer-friendly format |
| | Tell a friend about this page |