Unreconstructed proto metal funk...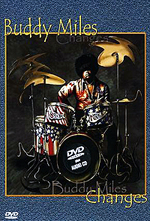 Rarely can a drummer have dominated band so much as Buddy Miles. Even when playing with the likes of Hendrix, Santana, Mike Bloomfield, Wilson Pickett and even Bootsie Collins, Buddy never ever took a backseat. And here in the presence of his own funky power trio he totally eclipses the other two band members, Chicago's Kevon Smith on guitar and Joe Thomas on bass.
That Buddy is a great singer and powerhouse drummer is never in dispute. However as on the funky workout of 'Knock on Wood' he sometimes seems to slip into a jam led trance that at one time necessitates him to ask the audience 'are you still with me'?
Such is the overkill here that he may well have asked, 'are you still there'? Because for all the trio's killer chops and funky grooves, there's far too much vamping and not enough restraint.
Already released as a CD in the US a decade ago under the spurious title 'Tribute To Jimi Hendrix' this New Morning recording and DVD has all the hallmarks of a musical bank robbery from Smith's gritty vocals, nay slaughter of 'Come Together,' to the guitar pyrotechnics and sledgehammer funk of 'Peter Gunn through to the inevitable and, to be honest, woeful Hendrix quotient.
There are moments when the sun shines through the unrelenting density of it all, and Buddy shows he's lost none of his vocal range on 'Them Changes', but even here the fuzzy, scratchy guitar and frankly annoying funky bass lines drown any semblance of subtlety. And Buddy's mock Plant/Zep 'Whole Lotta Love' rallying cry at the close of the song really is as crass as it sounds.
There's an actual call and response moment when the crowd remains silent as if stunned. And while camera picks out a few gullible women at the front, the two guitarists stalk the small stage like grungy robots looking to pounce on any non party people.
The funky groove of another Buddy penned outing 'Life is What You Make It' allows both guitar and bass a solo each but in truth adds little to a song that slips into another jam section, though it does get the crowd to their feet.
Yet just when you think the whole project is a one dimensional write off, Buddy pops up on upside down guitar (Hendrix style) on the second concert DVD for an overlong 'Born Under A Bad Sign'. But it's the following ballad that really is a pleasant surprise. Teamed up with expat American guitarist Peter Nathanson on guitar and the late Shakey Jake on harp, Buddy suddenly transforms into a Barry White style crooner on 'For Your Precious Love' (a stunning vocal style he twice briefly revisits on the interview section).
And for every OTT posture, every endless funky groove, and all the post Hendrix riffs that have gone before, Buddy redeems himself with a quite marvellous outing. The accompanying interview paints a picture of a proud musician, still enjoying his work and offering some telling reflections on Hendrix among others.
For the most part Buddy Miles 'Changes' is an avalanche of excess over restraint and taste, but if you like your rock unreconstructed and suffused with lashing of funky grooves and post metal guitar then maybe this is for you.
***
Review by Pete Feenstra