BRIAN HOUSTON Three Feet From Gold
BHS (2008)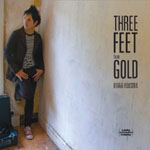 Put bluntly this is a wonderful album! Albums like this are what I love about reviewing - in that you have no pre-conception of the artist as you haven't heard anything by them before or been influenced by other reviews you may have read.
There is so much musical variety and good, strong melodies on here whether it be the gospel tinged 'Sister Of Mine' or the instant hit that is the single 'Oranges' (no real surprise to read this has already been getting airplay on BBC Radio 2). The latter has a Beatles feel to it.
'Somebody Save Me' reminds me of early REM whilst 'The Queen Of Hearts' is one of the best pop rock tunes I have heard all year - definite contender for the next single of this album. You even get a bit of doo wop on 'A Man Like Me'.
These varied styles all meld well with Brian Houston's vocals which are melodious and easy on the ear. The production is crystal clear allowing the listener to pick each instrument out of the musical mix.
The sign of a good album for me is the more you play it the more you discover and enjoy after each listen and this album succeeds at this with aplomb.
****½
Review by Jason Ritchie
---
| | |
| --- | --- |
| | Print this page in printer-friendly format |
| | Tell a friend about this page |
***** Out of this world | **** Pretty damn fine |
*** OK, approach with caution unless you are a fan |
** Instant bargain bin fodder | * Ugly. Just ugly
get ready to rock is a division of hotdigitsnewmedia group