BOB WELCH Greatest Hits & More Evangeline ACAM 8208 (2008)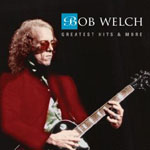 Unwittingly Bob Welch or someone at his record company has managed to amplify both the pros and cons of modern technology. For while the use of modern studio technology has allowed the post Peter Green Fleetwood Mac member to meticulously re-record and update his best recorded moments, the same attention to detail has not been extended to the liner notes, which are missing so many pronouns that it renders some of the text meaningless. But a lack of decent copy writer aside, Bob's 'Greatest Hits & More' is a welcome addition to any self respecting west coast music fan's collection.
For Bob Welch's role in the formation of the million selling Fleetwood Mac is not to be underestimated. His soulful brand of harmonic pop was clearly the missing link between the Peter Green blues era and the later hugely successful Buckingham/Nicks led Mac that led to the million selling 'Rumours' album. Of course this is all clear in hindsight but at the time many in the UK dismissed the handful of Welch led Mac albums as a pale shadow of the Peter Green era, criminally overlooking some of the Welch penned gems that populated underrated albums such as 'Future Games', 'Bare Trees' and 'Mystery To Me'.
This welcome collection of updated 'Greatest Hits & More' covers the years 1971 to 1979 with the addition of a new effort 'Like Rain', which suggests Bob has still got much to offer creatively. Bob Welch clearly still has that honey dripped soulful radio friendly voice. And after what some might consider a faux pas with the inclusion of his reading Peter Green 'Oh Well' - complete with an extended acoustic adjunct - Welch quickly establishes his trademark Californian sound on the epic 'Future Games' which has an undeniable Beach Boys feel and includes some lovely belated organ lines.
Bob further adds some delicately fazed vocals and silky pop on 'Angel', a track on which he ironically enough sounds like a cross between Peter Green and Snowy White. The subsequent reworking of 'Ebony Eyes' with its big drum sound is a triumph simply because Bob still has the voice to cut it.
His impressive vocal range further extends to evoking the likes of Colin Blunstone on both 'Silver Heels' and the 1977 top ten hit 'Sentimental Lady' (originally recorded with Mac, but later destined to become a solo hit).
And while some of the hits here like 'Church' only made it to number 73, there's a rare consistency to most of Welch's work born of a lovely voice and a core pop sensibility all airbrushed with the kind of Californian feel that went on to serve the post Welch Fleetwood Mac so well.
****
Review by Pete Feenstra
---
| | |
| --- | --- |
| | Print this page in printer-friendly format |
| | Tell a friend about this page |