BILL FAY Billy Fay Esoteric (2008)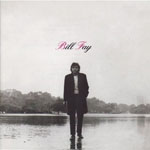 Not the next Nick Drake as today's breathless bloggers would have us believe, but the rediscovery of this restrained, enigmatic and equally British singer-songwriter of the same timeline is cause for celebration, bringing as it does the reissue of his 1970 debut on the fledlging Nova label, set up by Decca as a mid-price means of getting consumers into the progressive buzz of the time.
Not progressive but certainly arresting, Fay's album posited his quirky, melancholic songs in a landscape of lush orchestration couching a thin yet good-heartedly warm-voiced rendition quite unlike much else happening then.
Recorded in only two days, it's equally the contributions of jazz greats Mike Gibbs (responsible for the lovely arrangements) and saxophonist John Surman as Fay's frankly 'fey' talent that makes this such a rewarding listen, building beautifully to the sublime 'Be Not So Fearful', which is up there with the very best of Cohen L.
Follow-up Time of The Last Persecution (** - also out on Esoteric), the rug pulled out of the production budget, was a more pared-back rock outing, the cover shot of Fay, seemingly distracted and almost vagrant. Sales of both albums eluded him and Bill Fay therafter disappeared. Happier times saw both recent reissues of his demos and earlier work ('Bill Fay' includes bonus tracks in his late 60s single A and B sides) and plaudits from the likes of Wilco, who had Fay on stage only last year with them, playing out 'Be Not So Fearful' to a new generation.
****
Review by Peter Muir
---
| | |
| --- | --- |
| | Print this page in printer-friendly format |
| | Tell a friend about this page |