Just witnessed your best live gig?.. send us a review!
AIRBOURNE
Leeds Met University, 18 November, 2008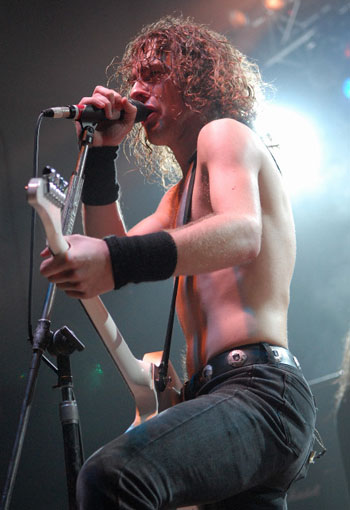 Photo: Lee Millward
Probably the second best act to ever emerge from the Australia, following in ACDC'S footsteps 'Airborne' literally shook the walls of the Leeds Met Uni on Tuesday 18th of November. Rightly winning 'Best New Band' at the Marshall Classic Rock Roll of Honour 2008.
Missing the first support act due to the insane lack of signposts around Leeds the night started for me with Stone Gods, whom were surprisingly damn good.
Not knowing what to really expect with thoughts of how they are going to live up to what The Darkness where, and having read few, and rather understated reviews I knew not what to expect.
Heavy and hard, they provided an exceptional performance Front man Richie Edwards is no Justin Hawkins, but he is undoubtedly an exhilarating front man with heaps of energy and a personality and character which you can't help but warm too. Stone Gods defining moment? Definitely has to be when Richie was promoting the sales of their new album then shattering his image of coolness as his explorer guitar escaped from its leather strap and crashed to the floor, followed by a drum roll and a roar from the audience.
It's all good stuff, though I did notice if a hungry cannibal stripped the flesh from the bones of these guys there'd probably in total be the equivalent of a small pigeon breast, which is probably a good sign of a serious rock.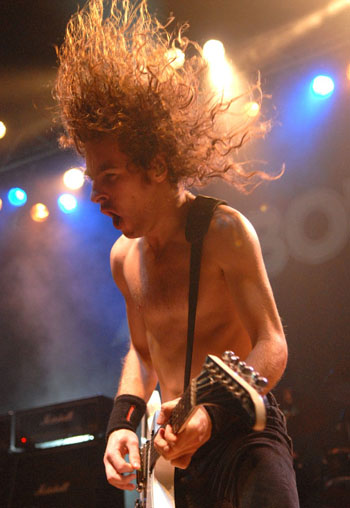 Photo: Lee Millward
9 o'clock and England was rocked with a bloody good taste of what Australia has to offer. Now insane psychopath front man Joel O'Keeffe, is Airbourne, he's the energy he's the vibe, he's most likely escaped, he's the human water feature showering the audience with a constant fountain of sweat and beer (literally).
Another of his stage talents involves vast amounts of canned beer, which he partly consumes then proceeds to spit all over the audience, which they clearly loved. It would be fair to say this guy is definitely one of the best front men I have ever seen, and if you ever have the opportunity to see these guys live, GO.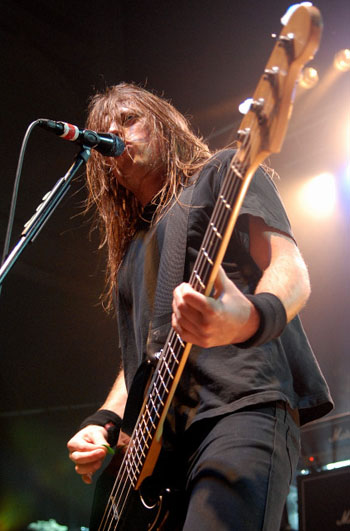 Photo: Lee Millward
Another one of Joel O' Keeffe's - more worrying but obviously brilliant - stunts that night occurred when he marched around the audience playing a long solo, going through the floor crowd, then through the crowd on the balcony, then..... up on top a stack of six Marshall amplifiers, covered in sweat and booze. Then quite clearly to the horror of the security men, leapt off, crashing to the stage in a heap.
They kick started their show with stand up for rock n roll, followed by the rest of the awesome songs from album 'Runnin wild', with Runnin wild, ironically being the last song before the encore, and I think is probably a pretty justified description of the band on the whole.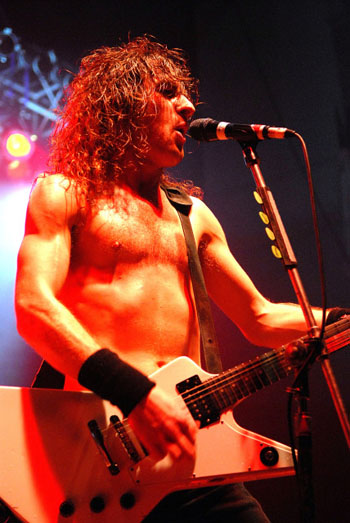 Photo: Lee Millward
Yes, it certainly is all bloody good fun with Airbourne, pure from the core rock n roll.
Really I could go into detail and use tremendously exceptional complex language about how brilliant and talented these Aussie hard rockers really are, but I have concluded that no words can really get across the true atmosphere of an Airbourne gig.
I will end this review feeling I have not done these guys enough justice, but what I can do is tell you that if they are playing a venue near you, you will be committing a sin of rock n roll if you don't go.
Review by Betsy Green
Photos by Lee Millward
---
Album review
---
| | |
| --- | --- |
| | Print this page in printer-friendly format |
| | Tell a friend about this page |