Just witnessed your best live gig?..send us a review!

ACOUSTIC FESTIVAL OF BRITAIN
Catton Hall Park, Derbyshire, 24th - 26th May 2008.
Photo Gallery

Following the total cancellation of the 2007 festival, due to extreme weather conditions and the floods that accompanied them, organiser Mike Stephens took the brave decision to try again in 2008.
Honouring 2007 tickets and vendor stall bookings must have meant a limited budget was available, and the team have done a wonderful job. The weather forecast is again not good for the weekend, and we arrive in very windy conditions - which makes tent erecting a difficult and time consuming proposition.

The festival is well set out with plenty of open spaces, and many family-friendly attractions. The music is split between the main marquee stage, an outdoor stage, and the smaller Maverick tent. We finish the tents just in time to catch the end of Jan Graveson's Disco Indians in the main marquee, performing a Zeppelin cover. Jan makes a pretty good job of a song not really suited to female vocalists (Ann Wilson excepted).

Sheffield outfit Boy On A Dolphin have to brave the wind on the outdoor stage, and provide an entertaining set of mid-tempo acoustic rock / pop. Although the sound is sometimes unavoidably lost on the wind, John Reilly's vocals are precise and clear. With the talented musicians around him, it is obvious why they have attracted a significant following over the years. Not being the most prolific of bands in the studio, and writing material they want to play, means that they are unlikely to break through commercially unfortunately.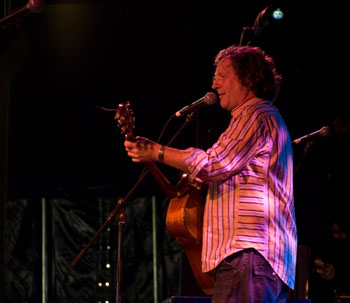 Glen Tilbrook of Squeeze fame fills the marquee next, and performs a set interspersed with hits from that era of his career. "Up The Junction" is a personal highlight, and the whole set is presented at a level you would expect from such an experienced musician. He finds plenty of time for banter between songs, and develops a good rapport with the audience throughout. The Maverick tent is hosting Sabai at the same time - a female celtic folk outfit who met in Thailand (hence the name), who play an interesting mix of original songs on guitar and fiddle.
Outside again, the biting wind is completely forgotten for 75 minutes as the best set of the weekend unfolds. Bernie Marsden and Neil Murray are joined by violin, accordion, banjo, another guitar and drums for a set full of Whitesnake songs - as you've never heard them before.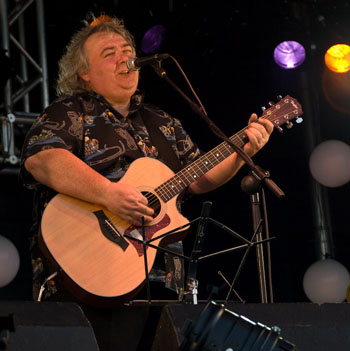 Quite how he came up with the arrangements for "Trouble" and "Lovehunter" for such an ensemble, I'll never know; but they worked brilliantly. Bernie's 12-string intro to "Ain't Gonna Cry No More" was superb, and the song as a whole was the highlight of the weekend for me.
Bernie handled vocal duties himself, proving that he doesn't really need "that other bloke", although he had plenty of help from the Catton Hall backing singers during "Ain't No Love In The Heart Of The City".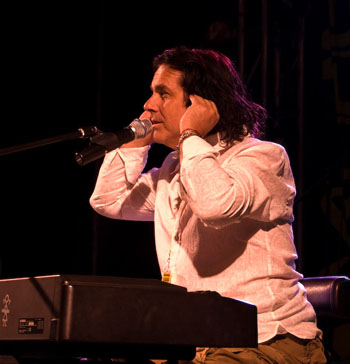 Marillion closed things off in the big tent for the day, with an hour of Hogarth era songs adapted to acoustic performance. It started with just Steve Hogarth on stage, with a band member joining him for each successive song until all 5 were there. An appreciative audience clearly enjoyed the set, but it could have survived the input of a few more up-tempo songs in my opinion. Steve Rothery was superb though, playing with feeling and extracting every ounce of emotion from each note.

A cold, windy night under canvas followed, and was superseded by a cold, windy morning that also had the added bonus of… rain!

Day 2 starts in the main tent with Ed Tudor Pole bringing his own unique style of rock and roll stand up comedy. Hugely entertaining, with some quality song writing and playing thrown in for good measure, he keeps his audience captive throughout. The obligatory encore is called for a rendition of his most famous song, "Swords Of A Thousand Men", during which he is ably assisted by those present. A great start to the day, "Hoorah, Hoorah, Hoorah, Yea - yea".

The aptly named Nine Below Zero get the dubious privilege of first use of the outdoor stage today. Battered by the wind and, at times, near horizontal rain, they manage to put together a set of well crafted blues. Part original, part covers, including a very good version of Canned Heat's "On The Road Again". Full credit to the band for sticking it out, and those that stayed to watch them. If blues is your thing, then NBZ are not a band to be overlooked.

Confusion takes hold, as the very understandable decision to cancel further use of the outdoor stage is taken, and the schedule is thrown into a state of flux. No-one seems really sure who is going to be on where or when, so many just stay in the main tent and wait to see who appears.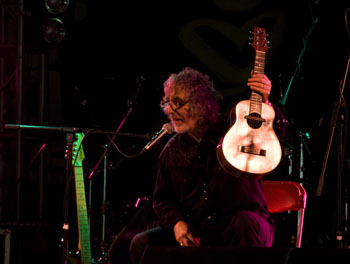 We are rewarded with an hour or so of guitar virtuosity in the hands of the extremely talented Gordon Giltrap. The list of famous names he has worked and written with would run into several pages, and listening to this totally instrumental set shows why.
He plays with great feeling across a multitude of instruments with 6, 8, or 12 strings, culminating with the piece he is most well known for - "Heartsong", which was used for many years as the theme tune for BBC's "Holiday" programme.

A packed Maverick tent indicates that something big is happening in there. That turns out to be Fairport Convention, who are obviously in the process of satisfying their legion of fans. With no room under the canvas, rain falling steadily, and the folkier side of things not being high on my list of priorities, I decide to return to the cover of the main marquee.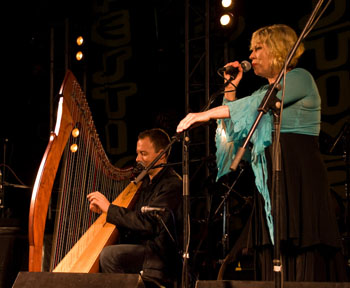 Hazel O'Connor, accompanied only by a harpist runs through an entertaining set of her well known (and many lesser known) songs. She still has the stage presence and voice to captivate her audience. The acoustic format suits many of the songs well, enabling more study of the lyrics and revealing just how talented a song writer she is.

While many remain in the main tent awaiting the next act (it turns out to be Melanie), I head off to the Maverick tent for a bit of Classic Clapton (aka After Midnight). No prizes for guessing what this 4-piece play, but they do it well. Singer / guitarist Mike Hall provides a good likeness, both vocally and visually, of the man himself, and the set includes everything you would expect to hear.
Having missed Melanie, the only thing to do now is to wait in the dry for the day's headline act. Ian Anderson leads Jethro Tull on, in full acoustic mode with John O'Hara sporting an accordion.
Opening with their most recognisable song, "Living In The Past", they get the crowd on side from the off. The ever flamboyant Anderson and his trusty weapon of choice are the focal point for most of the excellent set. He shows no sign of slowing down, and the European / US touring schedule they have set this summer is quite something for a band celebrating their 40th anniversary.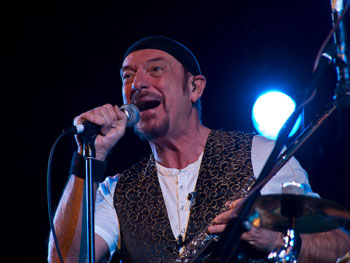 The shortened version of "Thick As A Brick" is present of course, and works really well acoustically - I'm not sure the same can be said for "Aqualung", but no Jethro Tull set would be complete without it.

Another cool night ensued, followed by a typical English bank holiday morning - looks like someone forgot to include bank holidays in global warming! After dismantling the tents, which proved to be even harder than getting them up in this wind (only 2 broken poles though), it was off to find the schedule still in confusion.

Much of the early afternoon was spent flitting between the two tents as nothing really grabbed my attention. The Cheshire Chord Company provided some entertaining choral cover versions, such as the Scissor Sisters "I Don't Feel Like Dancing". The Dixie Hicks were beset by microphone problems during their set of traditional country music. Tiny Tin Lady, the youngest band at the festival with an average age of about 20, showed why they are making waves in the acoustic scene with some excellent musicianship, outstanding harmonies, and good original songs.

Midge Ure finally took to the main stage, and enthralled everyone with a set filled with chart hits from his impressive career. He still has an very powerful voice and had no need of any assistance in singing the songs - but he got plenty!
"Fade To Grey" was a surprise inclusion for the acoustic treatment, but was good to hear - as were the string of Ultravox and solo hits. "If I Was", "Love's Great Adventure" and "Dancing With Tears In My Eyes" were all great - but nothing could compare to the spine tingling "Vienna". Still one of my favourite songs, despite me never being a real fan of 'new wave' music in general.

Swans In Flight showcased the songs from their recently released album in the Maverick tent. The album features a host of musicians, including Kip Winger, Marco Mendoza, Martin Barre and Robin Guy - to name just a few. The style varies from jazz to heavy rock and the live band, led by co-writer Hugo Montgomery Swann, perform all styles with apparent ease.

London Irish band Neck brings their blend of Celtic punk rock to the Maverick tent next. Imagine The Pogues crossed with The Clash, and you'll get the idea. A good fun-time band, with obvious Irish folk influences, and they get peoples attention with a high octane set. "Everybody's Welcome To The Hooley" is the stand out song.

The announcement that Bad Company will not be appearing after all puts a further dampener on the weekend, and with miserable kids in tow we decide to cut and run as Donovan starts up. Credit has to go to the organising team for putting this festival on, and keeping it running in the face of bad weather, artist delays, and cancellations. I'm sure Mike Stephens was very glad when it was all over - not that he gets much of a break, as he is no doubt working towards August's Rock'n'Roots festival now.

Review and photos by Ian Pollard
---
| | |
| --- | --- |
| | Print this page in printer-friendly format |
| | Tell a friend about this page |