Best of Argent and the Zombies and a few near misses...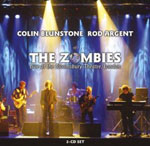 In many respects this is payback time for the Zombies. The band were actually bigger in the US than in the UK and split up before enjoying belated success with 'Odessey And Oracle', an album they never actually performed anything from until now. Nearly 40 years on, Rod Argent and Colin Blunstone fall short of a full blown use of the Zombies name so this being 'Blunstone/Argent of The Zombies' there is room to incorporate the Zombies and Argent hits and a few near misses.
As bass player Jim Rodford reminds us he was an integral part of Argent with Rod and so they include the relatively obscure but enjoyable 'Pleasure'. But if this isn't the Zombies and it is indeed a Blunstone/Argent project then it begs the question why is there no room for such signature Blunstone tunes like 'Caroline Goodbye', 'Say You Don't Mind or indeed, or 'I Don't Believe In Miracles'?
Curious too is the fact that the much lauded string quartet barely makes any appearance at all. And yet this DVD is still an excellent release that does the memory of the original band proud, and better still will leave American baby boomers in no doubt as to how good the present band is.
Featuring the rock solid rhythm section of father and son Jim and Steve Rodford on bass and drums respectively, plus tasteful guitarist Keith Airey, the band boasts four front line vocalists who breathe fresh life into Rod Argent's superb songs.
The hits are delivered with panache and the material from 'Odessey And Oracle' - most notably 'A Rose For Emily' and 'Time of the Season' - shows Colin still has the range to conjure up every lyrical nuance. And lest we forget Rod Argent's newer material such as the Latin feel of 'Sanctuary' is every bit as good as the back catalogue that made him famous.
The string quartet finally makes its mark, combining beautifully with Rod's piano intro and Colin's evocative reading of 'I Want to Fly', a number on which the clever video accompaniment is almost rendered incidental by the quality of the band musical performance.
'She's Not There' features a tough guitar break from Keith Airey who briefly works in the 'Day Tripper' riff into his solo, and Rod who excels on organ. The band closes with Russ Ballard's 'God Gave Rock & Roll To You', an enduring classic rock anthem which although a natural show stopper, is a curious choice for a seated Bloomsbury Theatre crowd.
Nonetheless this superbly filmed DVD which includes judicious use of a split screen to emphasise vocal harmonies and instrumentation 'comes highly recommended for fans both old and new.
****
Review by Pete Feenstra
---
| | |
| --- | --- |
| | Print this page in printer-friendly format |
| | Tell a friend about this page |