ZODIAC MINDWARP And The LOVE REACTION Tattooed Beat Messiah Rock Candy (2007)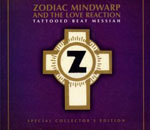 1987, and one Mark Manning, aka Zodiac Mindwarp, decided to make his mark on the metal music industry. And boy did he!
The plan was clear; take the most clichéd form of catchy and sleazy 'hair metal', and do every cliché to the maximum.
Even then it was obvious you'd be working with a very very limited shelf life, but in getting every cliché right everyone was hit square between the eyes. It worked.
This album appeared in 1988, on the back of several successful singles, including the album's opener 'Prime Mover'. It rocked, rolled and boogied, just like every other track on the album. There is some substance to the criticisms of the time (and since) that it was a one trick pony, formulaic, but the album and singles still sold.
There's still a decent tune in there, yes the one tune, across the several singles. Enjoyable all the same. Even the cover of 'Born To Be Wild' (one of a whopping nine bonus tracks) is done the same way.
Plenty of widdley guitar and bandanas.
The package is excellent though, even if the sleevenotes are too long, and just about every single b-side is there too.
Top marks for the package, and for taking one formula and making it work, even if it is easily scoffed at.
***
Review by Joe Geesin
---
| | |
| --- | --- |
| | Print this page in printer-friendly format |
| | Tell a friend about this page |