Classic hard rock with extras...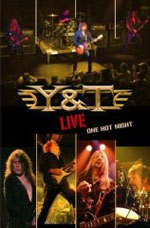 A very nice three disc set - two DVD's and a CD of selected songs from the concert. The main DVD contains a sixteen song set performed in 2006 in Zoetermeer, Holland. Only Dave Meinketti and Phil Kennemore remain form the classic line-up but along with John Nyman and the most recent recruit drummer Mike Vandehule they play a storming set (this despite most of them suffering from heavy colds!).
Highlights would depend on your particular Y&T faves but great to see 'Open Fire', 'Summertime Girls', 'Mean Streak', 'Surrender' and 'I'll Cry For You' all in set list. It is a very basic stage set as Y&T concentrate on giving the crowd straight ahead hard rock without the needs for flashy pyros or stage effects. Good sound and camera angles throughout make for a very enjoyable DVD.
Only minor niggle is the live CD leaves off 'Summertime Girls' - criminal!
The second DVD includes backstage footage, before and after the show - including Mike Vanderhule wringing out his sweat drenched t-shirt to show how hot it was on stage, nice. Plus the soundcheck which is fun to watch once but I doubt I would personally watch it again. You also get the meet and greet, a few fan interviews and the real bonus is some live footage from Bang Your Head festival in 2006.
A perfect live DVD for the Y&T fan and perhaps they could release the live CD on its own to entice in a few new fans. One of the most consistent and enjoyable hard rock bands around and long may they continue.
****
Review by Jason Ritchie