Master of Twiddly goes large in Japan and Russia...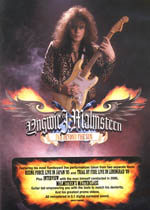 This is a repackaging of two vids from the eighties: 1985's 'Rising Force: Live In Japan' and 1989's 'Trial By Fire: Live In Leningrad' but without seven tracks from the former and minus five from the latter. The latter gig was also celebrated on Yngwie's first live album release.
Of the two concerts, the Leningrad gig is by far the best. It's better filmed, with a set-list culled from the excellent 'Trilogy' and 'Odyssey' albums, and with Joe Lynn Turner on vocals. And at the time it was the biggest-ever rock gig for a western musician in Russia.
The Japan gig suffers from period video effects and a lack of detailed Yngwie close-ups although it has got Jeff Scott Soto on vocals. And there's a sense of homecoming, as it was in Japan that Malmsteen first made his name as a solo performer.
You realise just how influential Malmsteen has been: taking his cue from heroes Hendrix and Blackmore he paved the way for many a latter-day metaller.
Both sets are high-energy hard rock but the 1989 gig has the edge probably because by that time Malmsteen had managed to harness his twiddly-diddly to a damn good riffy tune. Credit must go, too, to Joe Lynn Turner who co-wrote most of the 'Odyssey' album.
'Rising Force', 'Liar', 'Deja Vu' and the terrific 'Heaven Tonight' are all standouts. And with a light show like E.T's Mothership and the mandatory walkway and pyros this is a show of its time, but spectacular nonetheless.
This new package is bolstered by three promo videos, including the superb track 'Bedroom Eyes' (from 1991's underrated 'Eclipse'). Sound quality throughout is excellent.
A recent interview with the mainman brings the story up to date and helps newcomers understand his influences and musical approach whilst all budding guitar heroes should step up for 'Malmsteen's Masterclass' - two videos are tabbed.
An excellent guitar fest, then, but a shame that the core concert material offers less than the original VHS releases.
****
Review by David Randall