Just witnessed your best live gig?..send us a review!
WISHBONE ASH
Pontadawe Arts Centre, Wales, 18 October 2007
Too many 'name' bands seem to have forgotten where Wales is on the map when planning a tour of the UK so it was nice to see the veteran outfit Wishbone Ash return "by popular demand" to the small Welsh town of Pontadawe following a well received performance on their last tour.
It also gave me an opportunity to finally witness a band I'd never seen in concert before, one who I missed at this summer's Cambridge Rock Festival where they took second place on the Sunday night main stage bill.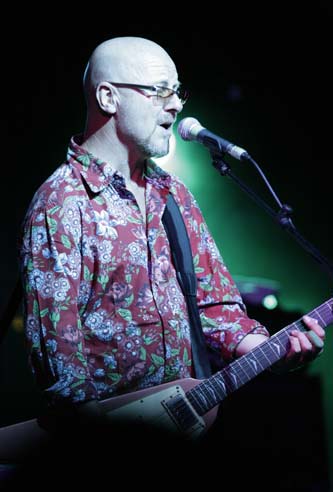 Photo: Wolfie
Much is made of the fact that so many bands are today touring with just one member of the 'classic' line-up, and whilst its true that lead singer and guitarist Andy Powell is the only survivor from the early 70s, Wishbone Ash aren't just trading on former glories.
Whilst a good percentage of the set consisted of well known and certainly loudly applauded numbers it was interesting that two of the songs that ranked amongst the most memorable of the night were drawn from their current release, "Power Of Eternity".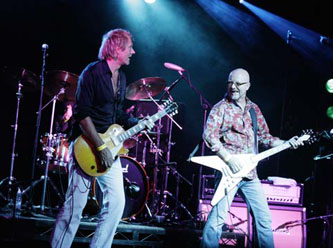 Photo: Wolfie
Indeed, the impressive "The Power" and "In Crisis" were only really eclipsed for me by the oldie "Sometime World" drawn from the legendary "Argus" release and a simply stunning, main set closing version, of "Pheonix" which showcased the bands trademark twin-guitar sound in all it's glory.
Bass player Bob Skeat (merely a nine year band member!) seemed particularly delighted with the reception from a 350ish strong Welsh crowd, and whilst Andy Powell proved his status as one of classic rock's better frontmen, star of the night was undoubtedly his guitar wielding compadre "Muddy" Manninen, whose display not only stole the spotlight but made a £16 ticket price that initially seemed a little steep, unquestionable value for money.
Review by Bill Leslie
---
| | |
| --- | --- |
| | Print this page in printer-friendly format |
| | Tell a friend about this page |