WISHBONE ASH Argus 2-CD, Universal (2007)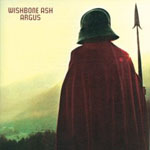 The band's classic 1972 album gets a two disc re-release complete with a full rematser of the original album, rare BBC sessions and live versions of the songs of the album. If you are new to the band do start here as this is the band at their peak with the twin guitars of Andy Powell and Ted Turner working so well together be it on the CSN sounding 'Sometime World' or the folk rock of 'Leaf And Stream'. Check out 'The King Will Come' or 'Blowin' Free' for what 70's rock was all about - strong lyrics, stunning guitar work and a passionate vocal delivery.
Disc one bonus songs are the rock 'n' roll of 'No Easy Road', the ten minute jam of 'The Pilgrim', which sounds like Camel in the guitar phrasing at times and a seventeen minute epic, 'Phoenix'. Disc two has more treats in the shape of live versions of some of the album's songs along with mono recordings of 'Blowin' Free' and 'Throw Down The Sword'.
For fans a real treat and if you love 70's rock music then this is a 'must have' in any collection. The band are still going today albeit in various versions led by an original member but they never quite reached the peak of this wonderful album in subsequent years.
*****
Review by Jason Ritchie
---
| | |
| --- | --- |
| | Print this page in printer-friendly format |
| | Tell a friend about this page |
***** Out of this world | **** Pretty damn fine |
*** OK, approach with caution unless you are a fan |
** Instant bargain bin fodder | * Ugly. Just ugly
get ready to rock is a division of hotdigitsnewmedia group