WISHBONE ASH Before First Light/Tracks 3
Talking Elephant (2007)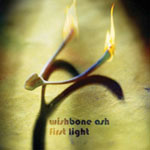 Wishbone Ash have been well served by Talking Elephant and First Light (TECD108) goes right back to the very dawn of the band.
Once thought lost, these demo recordings surfaced a few years ago at a Christies auction. Recorded in spring and summer 1970, the tracks were rejected at the time as too raw.
For fans and those who appreciate the art of twin-guitar, this is well worth having. It's classic seventies rock, and if a little tentative it does show the musical quality that was to captivate audiences a few years later. The early period is characterised by a folksy-bluesy approach that sometimes recalls Rory Gallagher.
'Roads Of Day To Day' is particularly impressive and a good vehicle for the guitar interplay of Andy Powell and Ted Turner, whilst the rhythm section of Steve Upton (drums) and Martin Turner (bass) excels throughout. This track, and 'Alone', demonstrates the band's enduring ability to pen a catchy tune, the latter ditty not dissimilar to their contemporaries (and early label-mates) Caravan.
'Blind Eye' is straight blues rock whilst the instrumentals 'Joshua' and 'Handy' have early seventies prog tendencies as well as freewheeling guitar figures. Five tracks were included on the band's debut album whilst 'Alone' appeared on 'Pilgrimage' in 1971. It's easy to see why this early bash attracted the interest of MCA and soon after Ash were on the ascendancy. ****
The three-disc Tracks 3 (TECD111) continues a series of more recent Wishbone Ash in concert. For a band that gigs regularly, there is obviously no shortage of live material and these recordings cover the years 2003-2005, although there's a few tracks from the eighties and 1999.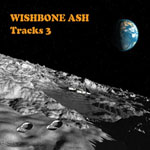 Perhaps the only disappointment with this selection is the lack of information. Completists will want to know - chapter and verse - where these pieces come from. Hardcore fans will no doubt have this at their fingertips. (This lack of detail is also a criticism of the previous 'Tracks 2').
The sequencing of this release is also debatable, some fans may have preferred to hear the acoustic treatments (which all seem to date from the same gig in 2005) in one place.
Disc 1 features mostly tracks from 2005 including the very fine 'Why Don't We' (Note to self: Check out 1989's 'Here To Hear') but it's 'Living Proof' that really stands out - from 1985. However when you think that a version of this this track was also included on 'Tracks 2', you have to tread carefully. 'Ballad of the Beacon' (from 'Wishbone IV'), 'Lullaby' (from 'Pilgrimage') and 'Candlelight' ('New England') are given a welcome acoustic treatment.
Disc 2 starts with a funky instrumental 'Clousseau' from 1988 (Album 'Nouveau Calls') and includes live versions of three tracks from the last studio outing 'Clan Destiny'. This set demonstrates that in the millennium Ash have never lost their spark. And as if to underline that, 'Faith,Hope and Love' (from 2002's Bona Fide') sums up the band's blend of vocal and guitar harmony. This CD includes older tracks 'Persephone' and live favourite 'Phoenix'.
The third disc has three excellent acoustic pieces featuring Andy Powell and Roger Filgate which dates it to c.1995-7 amongst rock workouts like 1999's 'Jailbait' and 'Hard Times'.
Always able to surprise, a version of 'Warrior' shows what might have been: the basic 'Argus' material reworked with orchestra.
Altogether, then, this is a feast for Wishbone Ash fans and could attract newbies too. Duplication between releases in the 'Tracks' series is inevitable, but for those who want a pretty thorough live resumé of one of our most hard-working bands look no further. ****
Review by David Randall

Another Time
© 2007 Talking Elephant. All rights reserved.
---
| | |
| --- | --- |
| | Print this page in printer-friendly format |
| | Tell a friend about this page |