Comprehensive Who story ...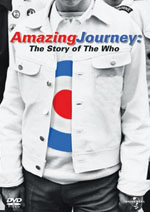 A real treat for anyone remotely interested in these British Invasion legends, a bit of lavish fun for anyone else.
The Who have had more their fair share of ups and downs. Two deaths, and a million leaps in the air, this band influenced more than most, more than would care to admit. Between hit singles and albums, rock operas, festivals and trashed stage gear, The Who really have done it all. Few bands can (or ever will be) more deserving of a 2DVD package.
Disc 1 is a feature length historical documentary, from Roger and Pete's upbringing in post war rationing to the various stage names taken by John Entwistle (John Alison anyone?), meeting at school, and a real look at John's playing style. Through the High Numbers to The Who, and beyond, there is vintage footage, mixed with vintage and more recent interviews that include John, Roger and Pete.
Some interesting views on the rewriting of Tommy for the film amongst a lot other topics, and many others including managers and even Harvey Goldsmith get to talk to camera.
It's a full history, I won't go into it because you either know it already (unlikely) or you should check it out here (highly recommended).
Disc 2 is easier to navigate, under the guise of "Six Quick Ones"; six mini features, the first four dedicated to each band member detailing growing up, development of sound, fitting in and etc. Again vintage clips (some colour, some black and white), and it's largely but not also musical so you get a full insight.
Current interviews with Pete Townsend and Roger Daltrey, along with other musicians including U2 and guitar technicians make for interesting viewing.
The last segment is a more recent studio session, kind of a reformation, featuring Pete, Roger, drummer Zak Starkey, bassist Greg Lake and pianist Jon Bundrick (who has played with the band over the years).
There's also The High Numbers live at the Railway Hotel in 1964, earliest known footage of the band and here in its entirety.
Add in a scrapbook, and it's a pretty exhaustive set. An insider's insight.
Heavy going for some, even I had to fast-forward through some segments, but really great viewing and done officially/properly too.
*****
Review by Joe Geesin