Final flourish from WTW ...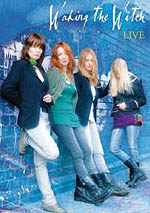 Recorded at the City Varieties in Leeds this is a very good live recording of this wonderful female four piece folk/rock/indie band. They are joined by a rhythm section plus a cellist and harmonica player.
Eleven songs in all with personal highlights being 'Jenny Thornton', the blissful 'Rock n Roll' and 'Me Leaving Me'. The good thing about this band is that each member has a strong vocal, which work well on their own and even better when all four join together in harmony!
Bonus feature is a band interview which gives insight into their live and recording habits plus live highlights and more.
A very enjoyable live DVD, with good sound quality throughout. Sadly though this could be the band's swansong as they plan to call it day in early 2008 after another UK tour.
****
Review by Jason Ritchie