UNDERGROUND BALLROOM Contradictions
UB UBC 001 (2006)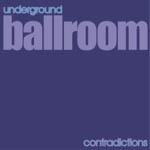 There are some albums that on first listening you are tempted to discard and not return to, only to find that several days later you are humming a riff, or even singing a vocal phrase that inexorably clings to your memory like chewing gum to your shoe. And while Underground Ballroom aren't quite as easily disposable as that they have delivered as sparse, straight to the jugular album, full of edgy guitar work, up in the mix drums, some earthy Hammond and the most unusual vocal performance I've heard for many a month.
The band is clearly the sum of its parts with each membe requally delivering an essential part in a 7 track album crammed full of edgy blues grooves. So while you may be suckered in by Jake Jackson's Hammond B3, your attention is subsequently diverted by a curious mix of Mike Atherton's spooky vocals, not to mention his angular guitar lines – but don't let me steal some of the adjectives use by the band to describe themselves.
To say Underground Ballroom are uncompromising is to say suggest that both Hendrix and Ornette Coleman were misunderstood. But beneath the surface of a thinly coated R&B veneer is the stirring of some freeform muso's who wish to push the envelope.
Thus while the 60's R&B groove of 'Big Road' is easily recognisable, the band follow that with 'Devil My Deceiver', a song on which Atherton's tortured vocals come across like a cross between a psychotic soul shouter, and a B movie horror wail. But come to think of it, we all said the same about Family's Roger Chapman way back in the late 60's. But hey, the band rejoice in the name Underground Ballroom, so they clearly aim to be as confrontational as they are honest in their exploratory musical outlook, and somewhere in the darkest depths of the London night life there is a Goth club waiting for the likes of the challenging discordant efforts such as 'I've Got To Use You'. This number alone comes across as a sort of nightmare strangled blues that might only have been tried by the likes of Arthur Brown, though even he might bulk at the hugely retro organ led time change and weird chord change.
Had this album been release in say 1969 with purple tinged psychedelic cover with a dark figure in top hat, we might have all been drawn to it. As it is we are in the year 2007, when such album covers have long disappeared, and we are left with the music alone. And as I said there are enough interesting musical elements here including the solid groove and mangled slide of 'Here, looking In Your Eyes' to lead to further exploration. Unfortunately for the band it's going to take some kind of alt.club/music scene to bring these dark explorations to a wider audience.
The sad fact is that by the time of the closing two tracks on which the band really stretch out impressively, many people will have hit the stop button; And that is a shame as Underground Ballroom are a left field innovative groove outfit straddling a Goth inflected blues and jamming scene.
***
Review by Pete Feenstra
---
| | |
| --- | --- |
| | Print this page in printer-friendly format |
| | Tell a friend about this page |