UK Live In America Store For Music SFMCD053 (2007)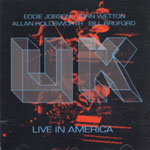 'UK - Live in America' is a reminder of a musically brilliant Prog rock outfit who took the brave step of launching a musically intelligent supergroup in 1978. And while the changing musical environment of the time was against them, this set also hints that UK never quite had the commercial bent of say Wetton's later career Asia, with which to cross over their stellar playing to a wider audience.
The Bill Bruford, Eddie Jobson, Alan Holdsworth and John Wetton line-up brought with it a collective heavy-duty musical background ranging from the Bruford/Wetton involvement in King Crimson, to the likes of Yes, Uriah Heep, Family, Zappa and Roxy Music. But unlike many of the above, UK didn't have the songs to match their musical pedigree, thus 'Live in America 'is a reminder of a great tour band delivering some fine musical moments rather than outstanding pieces of music.
Eddie Jobson is impressive throughout, doubling on keys and electric violin and he is featured heavily alongside Bill Buford's propulsive drumming on 'Alaska' and he comes close to emulating Keith Emmerson on his keyboards parts on both 'Time To Kill' and 'Carry No Cross' (from the 'Danger Money 'album). The latter offers some nicely layered synth and bass interplay.
'In The Dead of Night' is another complex, challenging piece of music. Kick started by Bruford, Wetton's staccato bass lines are topped by an opening Zappa style keyboard arrangement from Jobson, before the band work their way through an extended King Crimson influenced piece that allows plenty of room for extemporisation.
Mixing fusion, jazz-rock and prog rock, UK evoke the likes of Gentle Giant on the fractured lines of 'Caesar's Palace Blues', but with the bonus of some feverish, well received electric violin.
The bonus tracks feature 4 more recently recorded solo efforts from John Wetton of which the measured 'Rendez-vous', originally from 'Danger Money' is by far the best.
'Live in America' is at best a brief snapshot of a great live band, but probably only an essential purchase for diehard fans.
***
Review by Pete Feenstra
Time To Kill
© 2007 The Store For Music. All rights reserved.
---
| | |
| --- | --- |
| | Print this page in printer-friendly format |
| | Tell a friend about this page |