TOM DOUGHTY Running Free Corker (2007)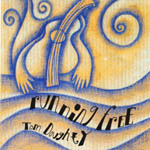 You know that feeling when you hear a fabulous new album by someone you've never heard of and you think 'where have you been all my life?'.
I sort of got that feeling when listening to this, the second album from slide guitarist Tom Doughty. He came well recommended by such guitar luminaries as Woody Mann and Bob Brozman, and man does he live up to it.
He plays a National steel guitar and although rooted in the blues, this is anything but a standard 'white guy ripping off the blues' album, so diverse is the content.
There's a great mix here of both self-penned songs and cover versions of old blues numbers, and you have to say the guitar playing throughout is nothing short of stunning - but it's a strange fact that the best moments here are on the tracks where he moves into more eclectic territory.
There's a three track, purely instrumental section in the middle of the album where the playing almost knocks you back in your seat.
He takes on Cole Porter's 'Ev'ry Time We Say Goodbye' and the self-penned 'Koa River', both of which would stand out even on a Martin Simpson or Kelly Joe Phelps album, but it's his interpretation of the Fab's 'Eleanor Rigby' that really takes the biscuit - an almost chilling rendition that sometimes gets you thinking he's strayed too far from the familiar melody but then he brings you back with start. Just superb.
There are thirteen tracks here and not a duffer in sight. The only very slight niggle is Tom's voice, which, although very good, somehow sounds a bit too 'nice' for the material - perhaps he should try gargling with razor blades before his next album. But this is a very minor point given the brilliance of the guitar playing and I wish I hadn't mentioned it now!
****
Review by Alan Jones
Your Picture Has Faded
© 2007 Corker. All rights reserved.
---
| | |
| --- | --- |
| | Print this page in printer-friendly format |
| | Tell a friend about this page |