Just witnessed your best live gig?..send us a review!
TODD RUNDGREN
Jacksonville, Florida 6 May 2007
My first exposure to Todd Rundgren was in my teens. My art teacher was a big fan of letting us young unformed minds listen to the local Rock station which was WPLJ in New York as we drew our way through our New Jersey high school existence. In 1978, that meant Utopia was in heavy rotation along with Led Zeppelin, The Who, The Beatles, Pink Floyd and of course Peter Frampton.
Dressed completely in black and wearing his hair dark with the blonde top which has been his signature doo, Rundgren took the Florida Theater stage to a modest 400 - 500 in attendance. To be fair, Chicago was also playing on this Sunday evening a couple of miles away which makes for a tough sell in this market.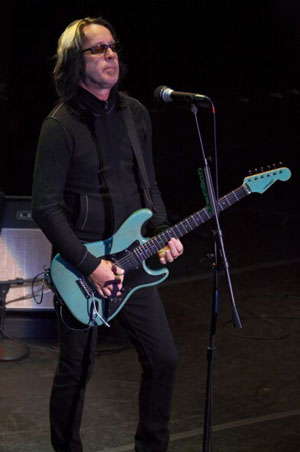 Without the shroud of Utopia, Rundgren is an eclectic, self-indulgent progressive artist. Todd Rundgren has been given a lot of labels over the years, eccentric, alternative, quirky, genius, etc and I am not one to usually hand out labels like three day old bread however, you truly need to be a fan of the 'Runt' to sit through this concert.
Frank Zappa comes to mind. Frank is God to his fans but he did not exactly appeal to the masses. Now don't get me wrong, musically it was great and I was totally impressed with the stage flexibility this 58 year old man displayed, jumping up Pete Townsend style to end several songs, but if you bought a ticket to go down FM radio memory lane, forget it!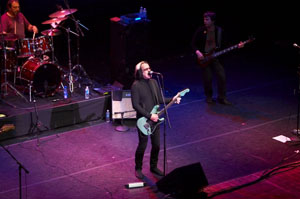 The only song he played from that part of his black hole-filled universe was 'I Saw The Light' and he struggled with it, explaining that it 'takes every bit of his throat to get through the damn song'.
No 'Hello It's Me' or 'Bang On The Drum' instead adding in a couple of covers to fill out the set. 'Lunatic Fringe' and The Calls 'Walls Came Down' which were equally enjoyably. Before launching into 'Mystified' he likened his touch of the blues to an Irish man touching the Blarney Stone only for the blues, one needs to seek out the blues stone and touch it with his penis 'and you're not allowed to wear a condom' Todd adds.
Ending the night with his two song encore of 'Hawking' off the Nearly Human album (wonderful vocals) and 'Worldwide Epiphany', left the crowd (if I can call it that) on their feet. The four piece band which consisted of Rundgren himself playing his foam green P-Project, Jesse Gress on guitar, Jerry Marotta on drums, and Tony Levin on bass. As I left the theater, I spoke to several concert goers who had nothing but love for the veteran Artist. For me, I enjoyed the show but would have liked a bit more of what was engrained in me in art class.
Review and photos by Steve Janowicz
---
| | |
| --- | --- |
| | Print this page in printer-friendly format |
| | Tell a friend about this page |