SUE FOLEY/DEBORAH COLEMAN/ROXANNE POTVIN Timebomb RUF1129 (2007)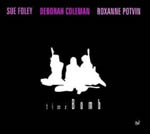 Here's an album to set the cat among the pigeons. It's long been the case that women's place in the macho world of 'she done me wrong' blues has for too long regarded as little more than tokenism.
Things have gradually started to change with a new generation of players such as Bonnie Rait, Joanna Connor, Ana Popovitch and more recently Finland's Erja Lyytinen. But still the feeling persist that any mention of blues heritage too often overlooks women practitioners from Sue Foley's major influence Memphis Minnie, to Bessie Smith, Big Mama Thornton, and Etta James, let alone crossover artists like Janis Joplin. But this project - the third version of the Ruf records championed Blues Caravan - seeks to redress the balance.
Rarely in any field of music let alone blues have three disparate talents combined so effectively. Executive producer Sue Foley, has seemingly found herself the perfect context for her own edgy blues style that can in the space of one song shift from Downhome blues to Dylan and the Stones. But above all this album is a triumph of the whole over the considerablly talented parts.
If nothing else 'Timebomb' should achieve wider fame and recognition for three leading contemporary blues players who just happen to be women. Of course all three of them don't leave their sexual politics at the studio door as Deborah's biting metaphorical 'Don't Start The Car' and Roxanne's uncompromising 'Hitting On Nothing' suggests.
And when it comes to rocking out, look no further than the title track, which could have graced any era Fab T Birds album. Even more refreshing is the fact that aside from a bristling funky arrangement of James Brown's 'Talking Loud', brilliantly handled by Deb Coleman and a lovely retro outing of Billy Davis penned Etta James hit 'In The Basement', there are nine startlingly original cuts here.
The album shifts from kick ass blues to Sue's Dylanesque 'So Far' and the Memphis Minnie influenced, 'Show Me' to funk and an album highlight, Roxanne Potvin's powerful blues ballad 'Strong Enough To Hold You'.
And while blues fans have long known about the merits of Deb Coleman, which are further confirmed by the beautifully sung 'Motor City', it is newcomer Roxanne Potvin who is the biggest revelation. Probably unknown to many before this project, Canadian Roxanne can deliver real emotion and toughens things up on the hard driving, ascending chord arrangement of 'Get Up'.
'Timebomb' works so well because it sounds like a genuine project rather than a loose aggregation of talented performers. Producer Kevin Bowe strikes a deft balance between his goal of a achieving a sumptuous sound and capturing the inter-artist spark.
With the rhythm section of Jim Anton, and drummer Billy Thommes, alongside veteran pianist Bruce McCabe and Mark Lickteig pushing the front line vocalists all the way without overstepping the mark, 'Timebomb' might already be considered as one of the best contemporary blues albums of the year.
****
Review by Pete Feenstra
Strong Enough To Hold You
© 2007 Ruf Records. All rights reserved.
---
| | |
| --- | --- |
| | Print this page in printer-friendly format |
| | Tell a friend about this page |