THURSTON MOORE Trees Outside The Academy (2007)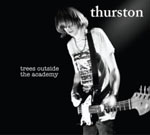 Trees Outside The Academy is the first output for Thurston (Sonic Youth founder member, guitar and vocalist) Moore since 1995's Psychic Heart and it's something of a surprise - taking pride of place instead of sonic experimentation comes 12 largely acoustic based songs.
Ably supported by Sonic Youth drummer Steve Shelly and violinist Samara Lubelski (MV/EE And The Golden Road) the album is something of a gem. With Moore laying down acoustic guitar and bass, Samara Lubelski's violin gives the proceedings a distinctly 1970's sound not a million miles removed from the sound deployed by Ric Grech in Family.
And the songs themselves are lovingly constructed and have something of a gentle timeless quality. That's not to say experimentalism has been entirely abandoned - there's still some sonic meanderings chucked in here and there, but primarily this is a singer - songwriter album with guests dropping in - Christina Carter providing some excellent vocals, Andrew McGregor some extra guitar licks and John Moloney taking over drums on Wonderful Witches.
Overall the album has a sort of sixties vibe and turns out to be a rather enjoyable, if unexpected, experience.
***½
Review by Pete Whalley
---
| | |
| --- | --- |
| | Print this page in printer-friendly format |
| | Tell a friend about this page |