Just witnessed your best live gig?..send us a review!
THUNDER
Bristol Academy, 28 November 2007
Amid pre-show rumours of a radical set-list overhaul, Thunder took the stage, in front of a suitably packed, mixed age audience, seemingly hell bent on banishing recent criticisms of predictability and overblown crowd participation. Even though there has never been such a thing as a bad Thunder show, this was to be a departure from the expected, keeping everyone guessing as to just what was coming next. Worn out songs were retired, long forgotten ones reborn and a healthy dose of newer material was presented as more than ample replacement.
Right from the wonderfully, sleazy opener Dirty Dream, Danny Bowes, as always, had this audience in the palm of his hand. Delighting the ladies with his bum wiggle and unique "aerobics class" dancing, his pipes in fine fettle he led the band with a professionalism second to none.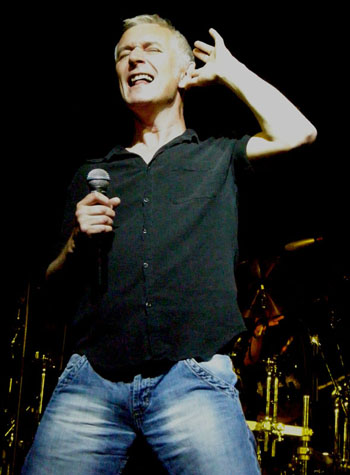 Photo: Ian Pollard/GRTR!
The return of Higher Ground was an early highlight, with the schoolboy humour of The Devil Made Me Do It running it a close second. Whilst there was some curtailment to the length of the trademark audience participation pieces from Danny, when they did occur every man jack responded impeccably, making for rather splendid interaction between stage and floor. One particular memorable moment, was the crowd shouting back " Harry made me do it" That in essence is what this band is all about, pure fun!
It was the mid-set trio of River Of Pain, the surprise but welcome inclusion of Flawed To Perfection and Like A Satellite that made you realise just what a massive back catalogue these guys have to choose from. Then bringing things back to the now, relatively new song from the stopgap EP "Six of One" Chain Reaction went down a storm!
Of course, even after the new broom swept clean, it would be unthinkable to have a Thunder show without the pair which closed their main set, the brilliant title track from their debut album Backstreet Symphony and the one every starry eyed couple was waiting to hear Love Walked In. Both perfectly reproduced and whilst they might well be old enough to buy a beer nowadays, they had a youthful zest about them, sounding as fresh today as they had on release.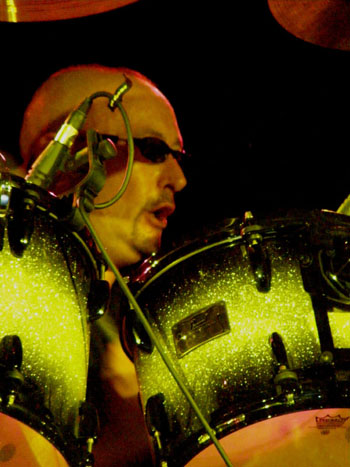 Photo: Ian Pollard/GRTR!
When drummer Harry James took centre stage midway through the encores, guitar in hand, Danny and Luke sitting on the drum riser, the first real predictable, yet vital, point of the whole night followed, a rather tasty version of A Better Man, or as he humorously renamed it A Balder Man. Final track of the evening was the very well received and extremely catchy I Love You More Than Rock And Roll. Then with the lads taking their bows to tremendous applause, two hours of revitalised Thunder came to an end, nobody going home even mildly disappointed at missing out on a bit of Dirty Love!
Set List:
Dirty Dream
Last Man Standing
Higher Ground
I'll Be Waiting
The Devil Made Me Do It
Robert Johnson's Tombstone
River Of Pain
Flawed To Perfection
Like A Satellite
Chain Reaction
Backstreet Symphony
Love Walked In
Encores Can't Keep A Good Man Down Spin Doctor Better Man I Love You More Than Rock and Roll
Review by Dave Hunter
---
| | |
| --- | --- |
| | Print this page in printer-friendly format |
| | Tell a friend about this page |