Just witnessed your best live gig?..send us a review!
David Randall was there back in 1977 and now, in 2007, could Thin Lizzy cut it on the Live and Dangerous Tour...?
THIN LIZZY/Diamond Head
Liverpool, University 6 December 2007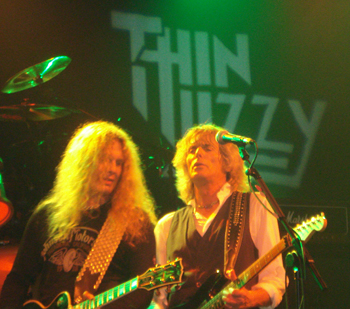 Thin Lizzy: John Sykes, Scott Gorham
Rather strangely, when I suggested to Scott Gorham in a recent interview that some 'reformed' bands showcase a whole album as part of their set he refuted that idea for Thin Lizzy. But we later learn that they are now going to celebrate 30 years since the recording of the Live And Dangerous set by playing the whole of that album. Of course, it is perfectly viable to play the whole of that set-list which represents a best of the classic Lizzy years rather than one particular album.
Part of the reason for this change has to be the drop-out of Queensryche who citing personal problems will tour in their own right in the UK next year. All you can say is: what a double bill that would have been. As it is, Diamond Head stepped into the breach and acquitted themselves well with half an hour of heavy rock, highlighted by 'In The Heat Of the Night' and a rousing 'Am I Evil'.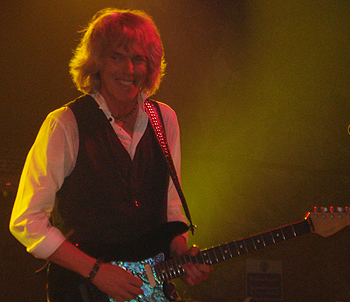 Thin Lizzy: Scott Gorham
Thin Lizzy almost single-handedly laid down the melodic pop rock template in the seventies but there have been accusations of 'cash-in' and a snubbing from die-hards who cannot accept the band without Phil Lynott.
This somehow misses the point. Thin Lizzy 2007 is a celebration of the band's music by two musicians who were there: Scott Gorham from the beginning of the band's most popular era, and John Sykes at the tail end. But both are fantastic musicians in their own right, with Sykes having an enviable pedigree that includes writing and performing most of the classic 1987 Whitesnake album. Add in sometime Sykes collaborator and Whitesnake drummer Tommy Aldridge, and Evanescence bassist Francesco DiCosmo, and you have a microcosm of melodic rock history on one stage.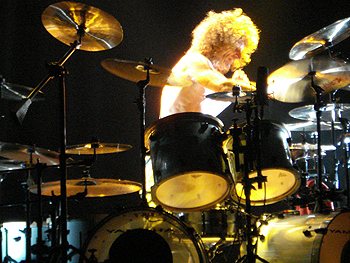 Thin Lizzy: Tommy Aldridge
This gig in a reasonable sized venue - the Students Union in Liverpool - was also a chance to really open up the band's music to a new generation. And open it up they did. Teenagers rubbed shoulders with bald men who should know better.
This was an exercise in musical precision as the band ran through the L&D set list in its original sequencing: no dipping in and out, this was the show as originally intended. And it soon becomes clear why this band incarnation is no shadow of its former self. The performance is a fantastic and meaningful tribute to Lynott and Lizzy's memory. And, moreover, a substantial contribution to the band's heritage.
It is a tribute to Sykes and Gorham themselves that they can play these songs with the discipline needed, there is very little improvisation or embellishment of the material. For many musicians this would be a straitjacket. It could be argued, too, that with modern technology and backline, the material is even more powerful now especially with Sykes' deft vocal intonation giving these songs an authentic twist.
Bands half their age have less hair and less good tunes. And all delivered with a passion and energy which again belies their time-wizened years.
Thin Lizzy: John Sykes
John Sykes is an excellent and commanding frontman and handles vocal duties with aplomb and works well in tandem with Scott Gorham. It is perhaps a shame that - career-wise - Sykes derives his power from Lizzy rather than in his own right but at least it may give the audience cause for further investigation of his own back catalogue.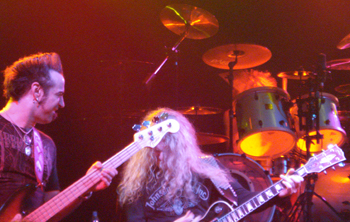 Thin Lizzy: Francesco DiCosmo and John Sykes
What this gig emphasises is just how good the original material is and also how durable. It is all thanks to Messrs Sykes and Gorham that they are keeping the Lizzy flame alive in such a sincere and spectacular fashion.
All that appeared to be missing tonight was the motorised/mirrored band logo that hung over the stage for the original shows and of course Phil Lynott, but his spirit and legacy still loomed large. And that is exactly as it should be.
Review and photos by David Randall
DVD review
---
| | |
| --- | --- |
| | Print this page in printer-friendly format |
| | Tell a friend about this page |