THIN LIZZY Reissues Universal (2007)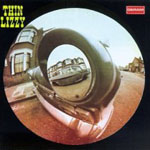 Let's get one thing straight - I worship at the feet of Thin Lizzy and Phil Lynott. One of the best bands ever and one of rock's most charismatic writers, performers and players.
But, and it's a big but, there were two distinct phases of Thin Lizzy - Mark I with Eric Bell on guitar, and the classic Mark II with the twin lead guitar spearheads of Scott Gorham and Brian Robertson.
It's perhaps relevant to reflect that the Mark II line-up only ever regularly covered one track from the band's first three albums - The Rocker. The point being, you can't even begin to compare the two versions of the band - Mark II was commercial, punchy and stunningly good. Mark I was, let's be honest, average - at least in their formative years.
There was of, of course, the Gary Moore period (Black Rose) which has also stood the test of time, but after that drugs and an ever changing line-up changed the face of the band forever.
Whatever, Universal have seen fit to dust down the band's first three original Decca releases and repackage them as 'remastered and expanded', with Vagabonds getting 'deluxe' treatment.
Considering the depth and breadth of quality output generally in the early 1970's, it comes as little surprise that Thin Lizzy - released in 1971 - failed to chart. Nor, for that matter, Tales From A Blue Orphanage released 12 months later suffered a similar fate. Whisky In The Jar was a surprise hit in 1973, but the band disowned it as too commercial and it didn't appear on the original version of Vagabonds (which explains it's omission here).
Despite a lack of commercial success Thin Lizzy, the eponymous debut, did find enthusiastic supporters in John Peel and David Jensen, and if you listen carefully, you can hear hints of what was to come - Look At What The Wind Blew In has the blueprint of the Mark II sound, and Return Of The Farmer's Son shades of Emerald.
If you decide to 'splash the cash' you do get a decent remastered sound and 9 bonus tracks. But the album wasn't great in 1971 and it isn't great now. **½
The tricky second album Shades Of A Blue Orphanage (1972) fared equally badly at the time. But it kicks off in swaggering form with The Rise And Dear Demise Of The Funky Nomadic Tribes - a huge slab or rock/funk. Ironically, this was the only non Lynott written track, being a band collaboration. But the album as a whole was largely experimental with no clear direction, and the sound quality is lacking and muddy.
That said, you get another 9 bonus tracks - Whisky In The Jar and the B-side Black Boys In The Corner being positioned in their correct chronological place - together with four overdubbed and remixed album tracks from 1977, and four Peel session tracks including a bluesy slide version of Suicide. ***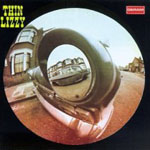 Vagabonds Of The Western World (1973) gets a mega expansion job with the addition not only of 10 bonus tracks including single A (Randolph's Tango, The Rocker and Little Darling) and B sides, radio promo edits and a 1977 overdub and remix of Slow Blues, but a second disc of BBC Radio concerts, John Peel and Bob Harris sessions.
It was, undoubtedly the band's most accomplished and consistent work to date with a bluesy and relaxed feel including the wonderful The Rocker.
It's easy to see why it was this album that was singled out for the deluxe edition treatment, and the bonus material, for once, merits inclusion on it's own right.
Broken Dreams (the B-side of Randolph's Tango) is a superb blues/rock number and the 1977 overdubbed and remixed version of Slow Blues is classic Mark II.
Add to this the inclusion of a full CD of BBC sessions and it makes this an essential purchase for fans of all Thin Lizzy line-ups. *****
Review by Pete Whalley
---
| | |
| --- | --- |
| | Print this page in printer-friendly format |
| | Tell a friend about this page |