THE VERVE This Is Music: The Singles 92-98 EMI (2007)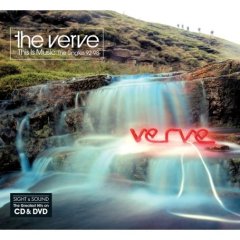 Back together this year after a break of nearly 10 years, it is probably timely to reinvestigate The Verve's classic output. This 1 CD/1 DVD collection pulls together their singles and standout tracks and the DVD contains the videos. It was out before, in 2004, and has evidently been dusted off again to exploit the renewed interest in the band and their recent UK dates.
Early Verve were influenced by the bands coming out of Manchester in the early nineties, notably Stone Roses and Oasis. They melded memorable melodies with a tinge of psychedelia and a characteristic widescreen orchestration as evidenced on their major success 'Back Street Symphony'.
Included here are the key singles - remixed in some cases - EP tracks, and a couple of unreleased songs from the 'Urban Hymns' sessions which are actually quite good.
The opener 'This is Music' sets the scene with the clumsy juxtaposition of Ashcrofts' sub-Liam sneer and an essentially melodic backdrop. As the band progressed Ashcroft's vocals mellowed slightly, and they headed for the stadiums: 'Lucky Man' could easily be from the Bon Jovi back catalogue. 'On Your Own' and 'History' slowed the pace. At other times, the band sound like Simple Minds.
Fans will argue that this collection could have been better: it doesn't include all the B sides and why couldn't they have included some live stuff especially as no official live album exists?
But as a reminder of one of the most important UK bands of the 90s 'This Is Music' does serve a purpose and is an excellent primer for those who missed out first time.
****
Review by David Randall
---
| | |
| --- | --- |
| | Print this page in printer-friendly format |
| | Tell a friend about this page |