THE SPECTACULARS Vicious Pop Mythic CD01 (2007)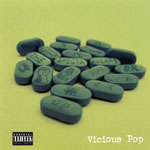 'Vicious Pop' by The Spectaculars is a startling album by anyone's standards, as it successfully combines seemingly conflicting musical influences into a coherent and dynamic whole.
The impressive South Wales outfit have in fact been biding their time, and learning how to shoehorn their many musical influences into a rootsy rap-rock mould and waiting patiently for potential interest to pay dividends.
Their patience has paid off as they are now signed to Mythic records. And if the band may at times sound like they have been waging internal musical warfare, ultimately the end result justifies the means as they deliver some killer licks, dance friendly grooves, immense hooks and yes, some hard hitting rap. Older heads might recoil from the rap core elements in the music, but they should hang in there because 'Vicious Pop' is a hell of a debut.
It's easy to dig up some obvious influences like Faith No More on the one hand, or say Bootsy Collins on the other, but you have to accept that The Spectaculars are forging their own sound. There's some clever use of double vocal lines with Lizzy B and song writer/vocalist Richard Toz Torres making a real impression, as well as some craftily layered keyboards. Throw in some big dollops of funk alongside occasional aggressive burst of rap laden verse with some rock solid grooves and you have the beginnings of something interesting. The band's esoteric musical journey climaxes on 'Higher' a kind of a rap-rock jam on which they finally burst through the genre dividing musical tensions with alacrity.
But then The Spectaculars are no ordinary band as they pay little heed to musical boundaries and carry their badge of spontaneity on their sleeves. Their lyrics convey a sense of angry frustration while some tempered cynicism and world weariness belies some of the funkiest grooves ever to come out of Wales.
Perhaps only Richard Torres will know the real meaning behind the troubling lyrics of 'The River' but he balances that with the self affirming and self explanatory 'Right Here, Tight Now', complete with stolen 80's synth line. The funky undertow on 'Ballistic' triumphs again to the point of lurching towards a partially veiled steal from 'Play That Funky Music White Boy'. But in an age of samples and 'drop in' The Spectaculars offer enough in their own right to provide a refreshing context for the odd familiar funky line or rapped out verse. Hell, they even reference their own band name in the closing couple of lines as part of a full rock work out.
'Ballistic' also features a mantra like hook that is every bit as catchy as Lizzie's earlier refrain on 'Hide The Porn Start The War'. The latter is an impressive co-write from Richard Torres and guitarist George Jones and features a funky guitar line with some keyboard generated solid dance rhythms and some dark ironic lyrics, notably; 'The urge to breed's become sublimated, Erupts into violence as it's frustrated, Chalk outline around his heart, As dark as the void keeps the star apart',
The Spectaculars save their best for last, as the closing 12 minute thrilling rap-rock jam explores various musical tensions. There's room for two fiery Jones guitar solos over a rock solid keyboard/bass/drum groove and an old fashioned big rock finish. As unpredictable as this album is, 'Vicious Pop' is a triumph of spirit over expectation. The Spectaculars are a tumble dryer full of aural colours, fledgling ideas, and great playing and must be a hell of a live act!
****
Review by Pete Feenstra
---
| | |
| --- | --- |
| | Print this page in printer-friendly format |
| | Tell a friend about this page |