THE SKIDS Reissues EMI (2007)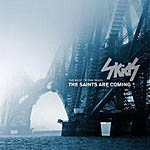 Two albums by Scottish punk legends The Skids, which are also available for download.
The Best Of kicks off with 'The Saints Are Coming', an anthemic number covered by U2 and Green Day.
'Into The Valley' was a massive hit that most should recognise.
There is an element of Scottish pop to the music; the anthemic nature of some of the songs is fresh and boot stomping, but it's not that hardcore as punk goes. The excellent guitar and songwriting of Stuart Adamson is clear, he would later go on to form Big Country.
Some great melodies, anthems, rockers, there's many singles included. Well annotated, it's a good a coverage and introduction as you'll want on one CD. ****
The live album, Masquerade Masquerade - The Skids Live,features 16 tracks from Hammersmith, London, 1980, by which time the band had had a few hit singles. Signed to Virgin, the band were doing very well in the new wave movement, and the guitar sound here is a lot more punchy and raw.
The energy and rawness while retaining some tightness in the performance made for a good live performance. Many hits and other tracks are performed here.
'Into The Valley' is coupled with a few bars of the Beach Boys' 'Sloop John B', just the kind of thing you want at a live concert. ***½
Well worth checking out.
Review by Joe Geesin
---
| | |
| --- | --- |
| | Print this page in printer-friendly format |
| | Tell a friend about this page |