THE NASH Kicks And Glory (2007)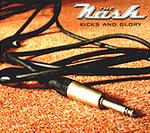 Cheese. Don't you just love the stuff? Universal, and it comes in such a wide range. And you can do just about anything with it - eat it neat, on a cracker, in a sandwich, grill it, bake it, melt it. Wonderful. It's also a pretty versatile word - cheese (plain and simple), the Big Cheese (the top man), cheesy (not exactly complementary).
Anyone see the episode of The Apprentice, when Sir Alan's wannabees tried to sell Cash and Carry cheddar to the French? They tried their best, but frankly it was a bit of a no hoper.
Which brings me round to The Nash - an Anglo American alt-rock combo who have toured the UK, Europe and the US sharing stages with the likes of Iggy and The Stooges, Supergrass, Primal Scream and The Buzzcocks. Their sound is described as a fusion of high-powered guitars and sensitive melodies with eclectic influences ranging from The Pixies and Weezer, through T Rex and Cheap trick.
And to be honest it's not a bad little album and what's in the packet is what's on the label - decent pop/rock with some pretty good melodies. But it's Cash and Carry rock. Or what might have been described in the 70's as 'pub rock'. Perfectly serviceable, and great after a couple of pints, but never in the cold light of day going to set the world on fire.
So in the cheese world, fine in a sandwich or with a ploughman's, but not for serving on the cheese board after the main course. ***
****
Review by Pete Whalley
---
| | |
| --- | --- |
| | Print this page in printer-friendly format |
| | Tell a friend about this page |