THE MISSION Reissues Universal (2007)

Three Mission albums get the revamped treatment with added tracks etc.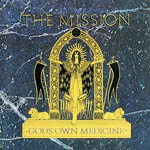 First up God's Own Medicine the band's debut album and one with such classics as 'Wasteland' (the band's big hot single) and the full unedited version of 'Love You To Death'.
There is also a good take on the previously unreleased Free's 'Wishing Well' which Wayne Hussey makes his own! This album showed the band's strength's - Hussey's gothic vocals, neat guitar that was never overstated and lyrics that at times made little sense but always retained that mystical, gothic air about them. ****
The First Chapter rounded up singles released before the band's debut album (remember back in the 80's singles and in particular 12" singles were a real must have for fans).
Being honest this is a fans only release as there is a lot of filler on here for the casual fan such as 'Vagilante Man' (which picks the lyrics of Nazareth and these are delivered in a very strange vocal), although their cover of Neil Young's 'Like A Hurricane' and the brooding 'Wake (RSV)' are well worth listening to.
Also a good live version of '1969', a track recorded by Hussey's pre-Mission band the Sisters Of Mercy. **½
Children released back in 1988 was produced by Led Zep's John Paul Jones and you can hear the Led Zep tinged arrangements on 'Kingdom Come' and 'Beyond The Pale' in particular.
Only slight downside to the album is that a few tracks tend to merge into one, although the cover of Aerosmith's 'Dream On' takes on epic proportions and again is well worth hearing. ***½
Two albums well worth having if you are a casual fan and one just for fans only. Those with vinyl copies of the original will enjoy these re-issues as well as you do get added bonus and unreleased tracks on each album.
Review by Jason Ritchie
---
| | |
| --- | --- |
| | Print this page in printer-friendly format |
| | Tell a friend about this page |