THE KORGIS This World's For Everyone Angel Air SJPCD244 (2007)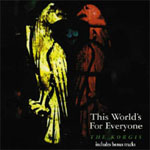 To many, The Korgis will be remembered as the purveyors of saccharine pop 'Everybody's Got To Learn Sometime'. Little by little, Angel Air have been letting the cat out of the bag: here's a band that needs to be re-evaluated.
This album, from 1992, was originally only available in Europe and Japan and now gets a much-deserved dust-off for the UK, with five bonus tracks.
Written in the main by mainmen James Warren and Andy Davis, this album is an object lesson in how to do immaculate, melodic pop music, with hooks a-plenty. The characteristics of that major hit in 1980, distinctive lead vocals, harmonies, and deft instrumentation are all firmly in place here.
From the title track, through 'Show Me' and the magnificent 'No Love In the World' (which according to the liner note should also be included as a bonus track) and 'Love Turned Me Around' - only the use of drum machine betrays the late-80s, early-90s origins. Just when you thought it couldn't get much better, the band roll out 'Wreckage Of A Broken Heart' and 'All The Love In The World'.
In the aftermath of the 1980s, Warren and collaborator John Baker 'were playing covers in wine bars and pubs' before putting together the demos that became this album.
The inclusion of the 'major 'hit' and bonus tracks including the original demo for the album concept, together with Bakers' instructive liner notes, round out an excellent package. Classic pop doesn't come much better, and an almost forgotten gem shines again. Simply wonderful.
*****
Review by David Randall
Show Me
© 2007 Angel Air Records. All rights reserved.
---
| | |
| --- | --- |
| | Print this page in printer-friendly format |
| | Tell a friend about this page |