THE FALL reissues Universal (2007)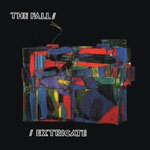 Long time John Peel favourites The Fall have released more albums than I would care to think about, with even more labels, line-ups and compilations.
These three Fontana albums from the start of the 90s are worthy of repackage (at least if you're a fan) and couldn't be packaged any better.
1990's Extricate saw singer Mark E Smith on top of his own game on this indie pop/rock set.
With their new wave influence still evident (Think Cure, Echo/Bunnymen/Happy Mondays if you don't know The Fall) the album opens with 'Sing Harpy' that drones on, while 'Black Monk Theme' has an off beat drum rhythm and an almost Hawkwind drone to the keyboards and guitar, with odd keyboard bars throwing back to the 60s.
The album moves on nicely and there's even a hint of Steve Harley. ****
For 1991's Shift Work the band were down to a four piece for the first time. With nowhere to hide you are forced to be tight, cohesive, and it worked, as did Mark E Smith's desire for a stripped down simpler sound.
In places more melodic, if sometimes edgy. The bass line on 'Idiot Joy Showland' is busy without being anal, giving the guitar an easy free reign. It's a pretty good listen, and made the top 20 first time round.
The guitar sound meant it appealed to pop, rock and indie fans alike. ****
1992's Code: Selfish was their third and final album for Fontana and really was stripped down, with almost techno approaches to some tracks. Still the singles flowed. Not quite a loose cannon, but a case of doing what the wanted, like it or not. ****
Darlings of NME, they still got rave reviews and recorded their 15th Peel Session which had to be some kind of record.
Each CD comes with a 12 page booklet with informative sleevenotes and track info and rare pics, and while each album disc restores the original album running order, the second disc in each case contains, singles, B-sides and Peel sessions etc.
It's easy to see why they were popular even if it's not your cup of tea, and this is really a lesson in repackaging.
***½
Review by Joe Geesin
---
| | |
| --- | --- |
| | Print this page in printer-friendly format |
| | Tell a friend about this page |