THE EAGLES Long Road Out Of Eden 2-CD, ERC 1749406 (2007)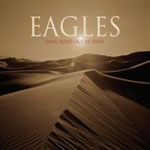 36 years on from their inception and 28 years since their last studio album, The Eagles retain all those characteristics that both endear them to us and annoy us by turns. And while side one of this cleverly arranged two CD set suggests they have remained in aspic with their slushy southern Californian country tinged AOR balladry, side two is something completely different.
It's almost as if the band has tried to sucker us in with familiarity before making their political and philosophical points. But there is enough great music on at least 7 excellent tracks to help you by-pass the lamentable schmaltz of 'I Love To Watch A Woman Dance' and 'I Don't Want To Hear Any More'.
If the world has changed since the early 70's halcyon days that The Eagles represent, then it's become a much colder place since 9/11. And as if to offer a concession to contemporary times the band make great pains to let you know they are both Eco friendly - witness the CD package which contains '3 0 percent post-consumer recycled fiber' - as well as politically aware, offering a handful of hard hitting reflections on current times.
So while the opening tracks suggest formulaic rigidity it comes as something of a surprise to find that The Eagles do have something meaningful to say after all. After the initial CSNY style opening on the eco message 'No More Walks in The Country' the band revert to their 1972 vintage on 'How Long', a JD Souther slice of country rock. And on the evidence of 'Busy Looking Fabulous', it all sounds like business as usual.
Indeed on 'What Do I Do With My Heart' they come dangerously close to sounding like a contemporary boy band, while the country feel of 'Do Something' is nothing short of tedious. But there are some glowing embers, like the Frankie Miller penned 'Guilty of The Crime' - a slide led piece full of honky tonk piano - and Glen Frey's funky Prince like falsetto on 'Fast Company'. The latter comes with a Curtis Mayfield style 70's groove and includes an effective and aggressive secondary vocal line and a deft horn arrangement which both contribute to a cool dynamic.
And while normal service is resumed on the Don Henley/Timothy C Schmidt ballad 'Do Something', there's just enough hope to take you into disc two, and what a difference a break makes!
The title track of the album dominates the record and is a revelation both in terms of its thematic narrative - the opening eastern sounding horn arrangement suggests Iraq - and the way in which the production cleverly punctuates the verse with some power chords, a sweeping vocal line and searing guitar. As a slice of FM rock suffused with political consciousness this is as radical as The Eagles are ever likely to get. The judicious arrangements and dynamic guitar parts (no matter how familiar they may sound) are simply superb and the military style drum roll outro is subtle enough to render the following brief guitar and keyboard instrumental piece 'I Dreamed There Was No War' as a moody, sad and defiant coda.
The band also impresses on both 'Somebody' with its tough vocal line and some killer slide and on the uncompromising 'Frail Grasp On The Big Picture' which pulls no punches with lyrics that could have been Zappa lampooning the republicans. The guitar breaks and the harmonies are as good as anything on the album. Joe Walsh also delivers a trademark 'Last Good Time In Town' which has the same humorous bent as 'Life's Been Good To Me', and is easily his best effort for years. The song hits its stride on the back of a bossa beat and a Steely Dan type groove with delightful percussion and delicious guitar licks.
On Don Henley's well crafted melodic rocker 'Business As Usual' some of the hard hitting lyrics are transcribed differently to pander to the parental advisory body, and you are also never quite sure how the band can distance themselves from their corporate critique.
The trouble with The Eagles is of course that they want their cake and eat it, but they are not the only 70's survivors carrying their contradictions with them. 'Long Road Out of Eden' could easily have been two separate albums, or perhaps one without the slush. But even in their 60's The Eagles are still balancing their musical and personal tensions and aren't about to change now.
****
Review by Pete Feenstra
---
| | |
| --- | --- |
| | Print this page in printer-friendly format |
| | Tell a friend about this page |