DAMNED Damned Damned Damned (Sanctuary) (2007)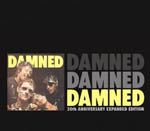 Amongst all the reissues, catalogue digging et al, you occasionally get a classic album, a genuine influential classic album, given the complete dogs' bollocks packaging.
Yes I know it's another Damned CD. Easy to overlook or dismiss. But this is a classic case of 'Why couldn't things be done like this first time round?'
The Damned are a great original and influential punk band, they are credited with being the first punk band on record (their Stiff label single 'New Rose, included here). Their debut, this album, is rightly lauded a classic, and every extra you could want is here.
Split over 3 CDs, you get the original album, a disc of B-sides, BBC Sessions etc and a disc containing a bootleg of the band's first ever gig in 1976. So no section messes up another.
Disc 1, the original album, opens with the blistering 'Neat Neat Neat', then 'Fan Club', and the high speed 'I Fall' contains a Ducks Deluxe style boogie done on speed.
Brian James' guitar is to the fore, the guy could really play, and Captain Sensible pounds along nicely. Dave Vanian proved the right frontman, his vocals range from couldn't care less sleazy to so far in your face he's up your nose. The line-up was completed by drummer Rat Scabies.
The aforementioned 'New Rose' is a standout, a simple in-your-face classic.
An album that anyone with a remote punk interest should own.
The June 1976 demos that open disc 2 are really ropey quality, and rough'n'ready too. Interesting yet painful, for the collector really.
Things improve for a rendition of the Beatles' 'Help', a single B-side. It's fun, certainly not a muso thing. You can't take it seriously, the band clearly didn't. 'Singalongascabies', another B-side, is worth a listen.
A total of 26 tracks on disc 2, many of which are BBC in Concert or Peel Sessions. Well recorded, you get the album material and a little more too.
The final disc is the July 1976 bootleg of the band's first ever concert, recorded at the 100 club. It opens with '1 Of 2', then we get 'New Rose', ably performed.
Another ropey recording, and it is best kept on that separate disc, because it won't be of interest to many, but an interesting insight all the same.
Disc 1 is essential, and parts of disc 2 come close too.
A well annotated set.
****½
Review by Joe Geesin
---
| | |
| --- | --- |
| | Print this page in printer-friendly format |
| | Tell a friend about this page |