TENDERHOOKS Eco Warrior (2007)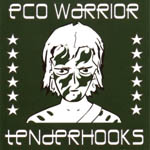 Tenderhooks Devil Rides White Horses debut album was a blissful fusion of rock, pop, blues, and experimental sounds, trawling the late sixties in a similar way to Oasis and Gorillaz and coming up with one of the most original and exciting albums of 2006.
Tenderhooks alter ego singer-songwriter Markus Leinweber and friends have followed up with another 'concept ' album - this time our hero becomes an eco warrior after an extra terrestrial experience: 'Aliens came to me flying in from outer space, they said we'll make you an eco warrior and you gotta save your race, you'll be a rock and roll superstar'.
Now that may sound a familiar plot to some. Ziggy, anyone? Even Tenderhook's eco warrior face paint has a vaguely Ziggy/Aladdin Sane feel. And this time around while there's still an US slant to many of the lyrics, the musical heart of the album is mined from a narrower seam from the mid seventies period. The title track even has a very Bowie 'feel', with added hints of Hawkwind and Matthews Southern Comfort.
But the Eco Warrior is a far less varied album than it's predecessor. And while it's a nicely played and produced collection, the song writing doesn't have the depth and hooks so in evidence on Devil Rides White Horses. Truth be told it's more derivative than innovative this time around.
And while, as on the debut, there's some pretty neat fretwork thrown in here and there, as a collective piece of work it's unlikely to make Tenderhooks a rock and roll superstar.
***
Review by Pete Whalley

Every Minute
© 2007 Tenderhooks. All rights reserved.
Artist website
---
| | |
| --- | --- |
| | Print this page in printer-friendly format |
| | Tell a friend about this page |