Just witnessed your best live gig?..send us a review!
TAYLOR HICKS
Florida Theater, Jacksonville, 21 February 2007
I arrived at The Florida Theater tonight as I have many nights before, to a crowd out front under the marquee of smokers who are getting in their last nicotine hits before the show. But tonight mixed in with the regulars were people I didn't recognize as the usual concert goers. These folks have not bought a ticket to a show in years. What was the reason you might ask? The power of television!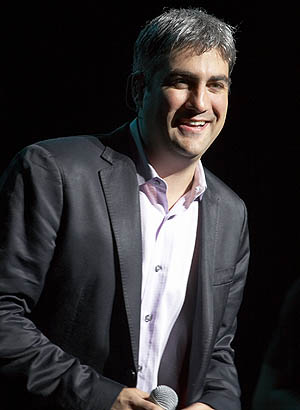 As much as Taylor Hicks might not want to have the American Idol stigma attached to him, it is what put him here. Talking with some promoters on this subject, the consensus was that Hicks is bringing in new money. People that would not normally spend their money are buying tickets to see Hicks. 'We're getting families, seat blocks of 6 and 10' Some are of the opinion that American Idol is a joke, a commercialized talent show to sell advertising.
Well, YES but it's more than that as well. Not many people think of Kelly Clarkson as an American Idol anymore because she stepped it up and became the star that she was destined to be. Whether Hicks does that is yet to be determined. I can tell you that tonight the theater was filled with loyal couch potatoes and curious regulars who came to see if Taylor could pull it off live without the cameras on him. In my opinion, he did!
Lisa Ingram from Jacksonville was there with a dozen home made signs to hold up. 'Welcome To Jacksonville', We Love You' and 'Soul Patrol' to name a few. The atmosphere of excited fans were there to root on their Idol. 'He's down to earth and has hair as gray as mine' said Lisa. She was not alone as I found out as I talked to more than a few in the lobby.
The crowd was chanting his name as the house lights dimmed and the seven member band started playing. Kicking off a tour in Jacksonville was a good move for Hicks as the intimate feeling of the Florida Theater usually moves an artist to interact with the people who are in the seats. The balcony is almost within reach of the stage and Hicks as well as many other artists enjoy the connection.
Dressed in jeans, a pink shirt and black sports coat, he played to his fans, dancing and moving on stage often playing air guitar or air sax next to his very tight musicians. He played most of the songs off his debut CD that carries his name. Notable songs were 'Wherever I Lay My Hat', 'Soul Thing' and 'Just to Feel That Way'. When he ran out of his tracks he turned to a few sure bets like Rod Stewart's 'Young Hearts' and The Doobie Brothers, 'Taking It To The Streets'. Hicks came out for an encore to end the night with another DB favorite, 'Without Love'. Love is something this Alabama native's fan base has plenty of for him.
Review and photo by Steve Janowicz
---
| | |
| --- | --- |
| | Print this page in printer-friendly format |
| | Tell a friend about this page |