The godfather of electronic music plays an anniversay show...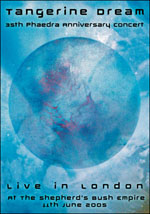 If there is any hint of irony surrounding the fact that electronic music's great survivor Edgar Froese should owe a significant chunk of his four decade longevity as much to Hollywood Film soundtracks as to his innovative music then this DVD release of Tangerine Dream's 35th Phaedra Anniversary Concert' suggests he hasn't lost his creative muse. At the very least this partial career retrospective serves to emphasize a shifting musical dynamic that readily illustrates Edgar's continuing pivotal place in all things electronic.
As Edgar himself says at the conclusion of the two and a half hour concert, 'We tried to get a selection of 250 hours music in 35 years'; And on the evidence of the crowd's enthusiastic response he seems to have got it right.
The concert takes in everything from the early exploratory soundscapes of 'Phaedra' - albeit it in updated form as 'Phaedra 05' and moves through Tangerine Dream's career development taking in Ambient, New Age, Techno music, with a cursory backward glance at Krautrock. The band is essentially the line-up that recorded the impressive 1993 '220 Volt Live', with the addition of Iris Camaa who doubles on percussion and drums. There's a fair sprinkling of various parts of Tangerine Dream's career, but Edgar initially settles on his UK breakthrough in 1974 with two early pieces from 'Phaedra'. The music is redolent of a time when the band were pushing back the boundaries of electronic music with their brooding soundscapes that up to that point represented something completely new. All these years later, it is still interesting music though perhaps not as compelling, given the huge advances in technology.
The band plough their way through 26 pieces with gradual shifts of moods and emphasis that might have been helpfully captioned on the DVD. As it is, Froese cleverly envelopes the listener with some aurally sculptured ambient moods and a slowly changing light show. In truth there are moments early on when everything is a trifle static and gets a bit boring, but by the time of 'Force Majuere', the band almost imperceptibly pick things up with a shift in feel and a sense of thematic development rather than just ambient mood music. 'Underwater Twilight' adds Iris Camaa on percussion, and Thorsten Quaeschning plays the first of several melodic piano motifs over a hypnotic synth beat. It's a welcome change in dynamics, as three guys facing illuminated keyboard consuls with their back to the audience gets a bit wearing, no matter how subtle the music and lights.
But there is a clever progression underpinning the whole show as the material shifts from the early to late 70's to the early 80's with the first signs of dance rhythms on 'Choronzon' which finishes with a flourishing crescendo.
By the time of 'Oriental Haze' the keyboard paying Edgar and son and Thorsten actually face the crowd standing behind their Roland keyboards, and together with saxophonist Linda Spa, they impressively work up the closest equivalent to a groove.
Things veer back towards introspection on the very Ambient 'Bridge' before slipping into 'Melrose' one of the concert highlights. The title track of the 1990 Private Music album, 'Melrose' is a delicious combination of judicious piano and sax lines underpinned by strong melodic structures making it one of The Dreams most accessible pieces.
The last quarter of the concert veers towards a far rockier edge with Zlatko Perica playing some energetic rhythm to Jerome's Proggy lead lines on 'Back Street Hero'. Things almost get a bit funky as Thorsten switches to drums on 'Lamb With Radar Eyes' and on the following 'Meta Morph Magic' the band lay bare their connection with the contemporary dance scene, with a mix of high energy pulsating dance rhythms and sampled voice. There's still time for Edgar himself to play what sounds like a talking synth guitar on another highlight, 'Talking To Maddox', before an unlikely but climactic ensemble reading of 'Purple Haze'.
Where Edgar Froese goes from here remains to be seen, but as this DVD perfectly illustrates his maverick restless spirit which has influenced more than two generations of electronic music fans and shows no signs of slowing down now.
****
Review by Pete Feenstra
Related>> Interview