TANGERINE DREAM Madcap's Flaming Duty
Eastgate EGVP PROMO1CD (2007)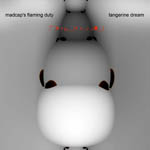 2007 marks the fortieth anniversary of Tangerine Dream, and poignantly founder member Edgar Froese chooses to dedicate the new 'Madcap's Flaming Duty' to the late Pink Floyd maverick Syd Barrett. And while the album bears no apparent musical connection to Syd, perhaps the notion of common ground lies in the fierce independent artistic spirit that marks out this latest Tangerine Dream CD as a radical and successful stylistic departure.
The band of course gained their commercial break though in '74 with 'Phaedra' and have since then been regarded as a keyboard led instrumental outfit, which makes this 12 track vocal driven album all the more surprising.
Edgar's take on the band's new direction is simple. 'You never can count on the public voice, you have to listen to your inner voice'. He concludes, 'You just have to serve the art form you are into'. And so it is that through this sort of objectification of his music, that Edgar Froese has for the most part successfully shifted the musical focus of his band.
On the opening 'Astrophel And Stella', vocalist Chris Hausl delivers a John Wetton-style vocal over the top of a hypnotic aural landscape populated by layered keyboards and a pounding undertow. The following majestic ballad 'Shape of Sin' is a successful conjoining of Thorsten Quaeschning's music and Christian Torsa lyrics on which Hausl's vocals soar above Edgar's pulsating keyboard sweeps.
Froese has of course been an integral part in Electronic music, bringing the synthesizer to the fore as a front line instrument, and as a consequence influencing everything from the Trans and Ambient Music scene's to Techno. And perhaps one of the challenges he faced with this album was to eek out a contemporary musical context for his instrumental outfit.
But in truth this album bears little resemblance to the above musical antecedents, save for a return to the poetry of William Blake. The result is a successful attempt to give full expression to some lyrical adaptations of 17th and 18th century Anglo American poets by Bianca J Acquaye - a case of searching the past to shape the future. As a consequence the songs for the most part successfully supercede the band's previously impressionistic but at times rather static instrumental output.
On 'The Blessed Damozel' for example, the keyboard/voice axis is underpinned by some delicate sounding percussion, with Edgar gently working on an undulating keyboard groove that carries the song's dynamic.
If there is a downside it is simply that many of the songs are tied to the same unhurried mid- range tempo giving the feeling of wave after wave of unrelenting sonic swirls, whose only dynamic resolution comes from the soaring voice. The band do up the tempo on the impressive 'Dream of Death' and the clarity and deliberation of the vocal lines come close to the gothic feel of Dead Can Dance's Brendan Perry. The number slips into a searing Floydian mid-section tied to Bernard Beibl's wonderful guitar break, which marks a welcome lurch towards a rock dynamic.
But this album is nothing if not surprising by twists and turns. 'Lake of Pontchartrain' is described by Froese as 'refreshing', and is an Irish folk song driven by an unrelenting keyboard part, and utilises a lovely blend of acoustic guitar and flute which teases out its Celtic feel, while the following 'Mad Song' combines the lyrics of William Blake and Froese's musical vision and is carried by a stellar three note keyboard riff.
For the rest the material teeters on the brink of an underlying tension born of the Edgar's new found use of the voice. 'Hymn To Intellectual Beauty' is another impressive outing drawing on poet Percy Shelley's lyrics and instrumentally comes close to the Tangerine Dream of old But with the addition of the voice there is a clamour for an ascendancy in the arrangement. It almost sounds like an Alan Parson/Colin Blunstone-era piece but Froese conjures up a lovely accompanying aural landscape including a lovely Caribbean feel in the outro section.
All in all, 'Madcap's Flaming Duty' is an interesting departure for Tangerine Dream and is arguably one of their finest albums for years, suggesting that four decades on, they aren't about to rest on their laurels.
****
Review by Pete Feenstra

Interview
---
| | |
| --- | --- |
| | Print this page in printer-friendly format |
| | Tell a friend about this page |