SUMMERTIME BLUES Ruf 1130 (2007)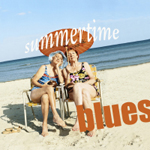 'Summertime Blues' is the latest in an impressive series of Ruf records compilations. Though not hitting the across the board consistency of say the 2004's '10th Anniversary Sampler', this 12 track CD still has enough highlights to explain why Ruf records has recently won the prestigious blues record label of the year award.
The key to a successful compilation album is the way in which the album draws the listener in, and then hits them with a few heavy duty tracks that carry the rest of the album. 'Summertime Blues' is no different to that save for the fact that label boss Thomas Ruf has never shied away from signing interesting and diverse acts, which gives a compilation album such as this its dynamism.
'Summertime Blues' is a fine collection that opens with one of the labels most famous names, Canned Heat. But in truth Heat's 'Wait and See' is a slow burner and probably not the track to open with. Vocalist Robert Lucas tries to sound like the late Al Wilson, and together with the 'Going up the Country' style flute it all sounds a bit staid and more derivative than inspirational. Things lighten up considerably with Candye Kayne, arguably one of the labels most improved artists. Candye has for the moment ditched her standard fare of rolling boogie piano and double entendre lyrics for a far rockier, guitar led approach. Her fine vocal contribution is matched by the guitar of that other larger than life character Poppa Chubby.
Hard rocking blues guitar slinger Ana Popovitch also surprises with a big band outing, that although well arranged, doesn't in truth suit her lightweight voice. The late Luther Allison on the other hand is an object lesson in how to make the most of a durable if not memorable voice. His beautifully arranged rock steady, soul tinged 'I Wanna Be With You' is a classy album highlight, and is the kind of well crafted and very potent song that could have been released any time in the last four decades, as it's that good. In fact the Luther's effort is also the track most closely related to the 'Summertime Blues' concept, all it needs is for one enterprising DJ to start playing it!
The soulful side of things is further underscored by Ian Parker who since going his own way and treading a fiercely independent artistic path, has impressively forged his own niche. Where once he was an emerging rock blues star, now he's now engaged in some post Robert Cray style, white boy soul phrasing that is beautifully underpinned by a fine horn arrangement and some nice tinkling of the ivories by Mo Morgan.
Walter Trout meanwhile teams up with his old boss John Mayall for the kind of abrasive rock blues outing you might expect with Mayall adding to some lovely piano lines to accompany Walter big toned solo. The pairing of Walter and John came about as a result of Trout's 'Full Circle' CD on which he plays with his musical contemporaries and friends, and it is a joy on what apparently was a one take deal. And on that basis rocking blues doesn't come much better than this. Roxanne Potvin adds a welcome variety with a New Orleans sounding, piano led cakewalk style 'Caught Up', while Aynsley Lister further explores his new found radio friendly melodic rock direction with 'Wherever I Am' from his best yet 'Upside Down' album. And while Canned Heat might struggle to breathe fresh life into their brand name Larry Garner does just the opposite utilising a gentle Two Tone beat to underpin a characteristic philosophical narrative on the aptly titled 'Do Your Personal Thing'.
For the rest, the effervescent Sue Foley explores her continuing Memphis Minnie fascination on the down home 'Show Me' while Eric Bibb does what Eric Bibb does best, spinning his compelling stories over an electro - acoustic blend of guitars that help bring his colourful lyrics to life in an accessible post gospel style. Lovely stuff! The closing 'Poison' by Grayson Capps revisits the angst of the late Kevin Coyne, but cloaks it in a New Orleans style feel well suited to Grayson's soulful voice. 'Poison' is the perfect end piece to a fine blues infused compilation album, proof if nothing else of the variety and open ended nature of some great summertime music.
****
Review by Pete Feenstra
---
| | |
| --- | --- |
| | Print this page in printer-friendly format |
| | Tell a friend about this page |