Just witnessed your best live gig?..send us a review!
STYX
The Florida Theater, Jacksonville, FL 14 January 2007
When Tommy and the boys were here in 2004, they put on a great show. The atmosphere of the quaint Florida Theater seemed to spur the band on to performance heights that even surprised them. As I drove to the theater last night, I thought that it would be tough for them to top that last show. Tough? Perhaps. Incredible? Absolutely!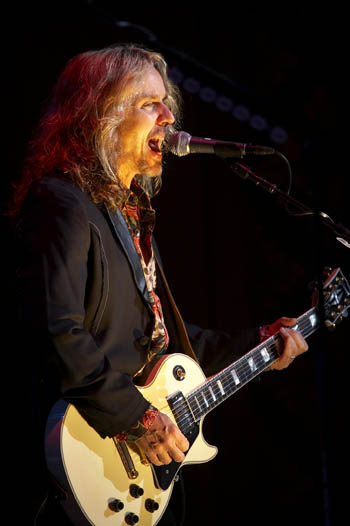 Photo: © 2007 Steve Janowicz
As they took the stage in with a cloud of cliché dry ice beneath their feet, they slammed right into an extremely loud 'Blue Collar Man' and then into 'Grand Illusion' as the sold out Florida Theater let out a roar almost as loud as what was coming from the towers of Marshall amplifiers stacked high behind Shaw. Tommy and James 'JT' Young who have been playing their music for over 30, yes you read that right THIRTY years and still look as young as they did twenty years ago, have been labeled as the hardest working guys touring today.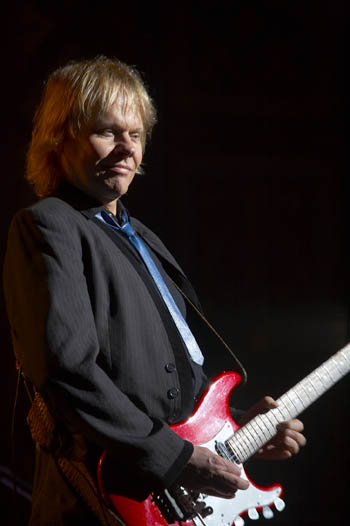 Photo: © 2007 Steve Janowicz
Logging 200 shows last year alone could take a little out of you but not these guys, they played their hearts out for the Jacksonville crowd for over two hours and did not want to quit. The enthusiasm was infectious as Tommy invited all in attendance to come on the road with them. He and the band were clearly having as good a time performing for the eclectic mix of patrons of all ages as we were watching it.
With staple songs such as 'Crystal Ball', 'Fooling Yourself', and 'Come Sail Away' in their catalog, life was good last night. A rendition of the Beatles 'I am the Walrus' was surprisingly outstanding given there was no orchestra in the pit to help out. A ten minute medley of eighteen songs taken from their vast collections was phenomenal as well. If I had to pick one thing that was average compared to the rest of the night, it would have to be 'Suite Madam Blue' which keyboardist and Dennis DeYoung replacement, Lawrence Gowen sang was less than spectacular and in my opinion should be left out unless Dennis joins in for a cameo performance.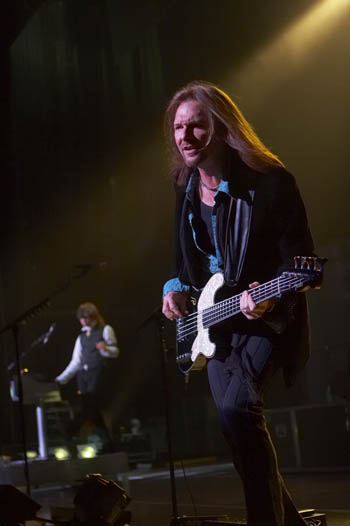 Photo: © 2007 Steve Janowicz
I never thought that DeYoung fit in with Shaw and Young. To me it was mixing two genres in the same bin. However, there are times that his presence is missed and 'Madam' was one of those times.
One of the sad highlights of the night was the limited appearance of original bass player Chuck Panozzo. Having lost a brother to aids myself in the early nineties, It immediately took me back there watching Panozzo. Living with AIDS in this day and age is usually manageable however as the road manager told me after the show, 'having it go untreated for twenty years will take it's toll on you' Chuck was visibly weak but performed with a smile on his face on the songs that made Styx the powerhouse rock band that they continue to be.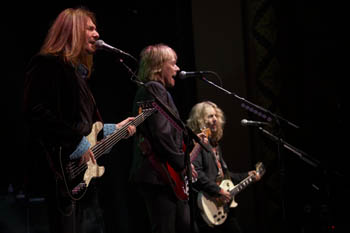 Photo: © 2007 Steve Janowicz
An encore performance of 'Renegade' seemed to go on in place of three songs but no one was budging from their seats. It was an outstanding experience from soup to nuts at the Florida Theater. Next time Styx comes to town, get yourself a ticket early or you may miss it.
Coo, Coo, Cachoo
Review and photos by Steve Janowicz
Set list:
Blue Collar Man
Grand Illusion
Lorelei
Too Much Time
Lady
Snowblind
I Am The Walrus
Just Be
Medley (18 songs)
Crystal Ball
Suite Madam Blue
Fooling Yourself
Miss America
Come Sail Away
Everything All The Time
Renegade
---
| | |
| --- | --- |
| | Print this page in printer-friendly format |
| | Tell a friend about this page |