STONEY CURTIS BAND Raw And Real Provogue PRD7232 2 (2007)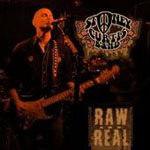 Having impressed everyone with his high velocity playing and intense vocal style on the accurately titled debut album, 'Acid Blues Experience', Stoney Curtis's much anticipated follow up CD the equally suitably titled 'Raw And Real', further explores his explosive guitar playing.
The new CD certainly lives up to its name being above all a band effort with the trio plus occasional keyboard parts blasting out some 'straight to the desk' powerhouse bluster. But while the edgy live feel ushers in some barnstorming playing, the material appears to have lost some of its psychedelic influence along the way.
Stoney Curtis is the kind of intense big-toned guitarist for whom every nuance and changing mood inflection finds its full expression in a wide range of solos. Fronting a hard driving power trio, he delivers his vocals as if each song is his last dying breath. And with a cracking rhythm section comprising Charlie Glover on drums (previously known as Charles Glover 11) and Colby Smith on bass, he gets the rock solid supports he needs to fully explore the full parameters of his fretboard.
In the main, the material is the usual mix of drinking songs such as 'That's Right' and relationship narratives as evidenced by the lyrically ambivalent, 'Girlfriend' and the guitar driven 'Love And Money'.
There's also the occasional libidinous rocker such as the hard driving, radio friendly 'American Lady' on which the band goes into overdrive. Allied with a handful of hard edged funk and blues outings Stoney duly showcases his crunching repertoire without too many frills. Guitar fans will enjoy the wah wah laden, riff driven 'Back Rose' and the irrepressible vim and vigor of the instrumental burnout 'Coldwater Canyon'.
Those of you who bought 'Acid Blues Experience' will also warm to the thinly disguised thematic reworking of the stellar 'World Without You' on the self explanatory 'Blues Without You'. But there's more to this album than a mere fiery romp through a well heeled rock blues template.
Listen for example to the Pink Floyd influenced 'Behind The Sun'. The song is a stylistic departure for Stoney, being a mid tempo atmospheric rock piece built on Colby Smith's throbbing bass line with added Hammond parts, big chord changes and shimmering guitar. Stoney builds up the dynamic and finally delivers some characteristic fiery guitar lines.
'Raw And Deal' may not have the same immediate impact as his debut album but there's enough of tonal diversity to Stoney's playing, enough light and shade in the material, and certainly a giant helping of old fashioned passion to satisfy just about everybody.
****
Review by Pete Feenstra
---
| | |
| --- | --- |
| | Print this page in printer-friendly format |
| | Tell a friend about this page |