STEVE GRIMMETT BAND Personal Crisis Metal Heaven (2007)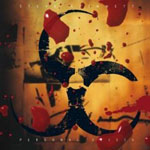 Steve Grimmett returns with a new album and under his own name, although some songs on here do hark back to his Lionsheart days. Indeed Lionsheart guitarist Ian Nash is part of the line-up, along with producer/drummer Pete Newdeck (Eden's Curse) and bassist Ritchie Walker.
The big change compared to previous albums featuring Steve Grimmett is greater use of keyboards/piano ably supplied by Eric Ragno. 'Enemy' is a prime example of this and this song also features a female vocal whose name does not appear on the promo information nor on the band's MySpace site. Whoever she is she compliments the song and Grimmett's powerful vocal very well.
Some good variety on here with 'Strength' verging into melodic hard rock, whilst the opening track 'Karma' is heads down, no nonsense slab of classic metal. 'Wrath Of The Ripper' has a menacing guitar/drum motif and a wonderful storytelling lyric. 'Lonely' and 'Fallen' recall Lionsheart and both contain catchy choruses backed by heavy riffing.
Like Saxon, Steve Grimmett seems back on the top of his game and indeed Saxon fans would doubtless enjoy this album.
Fans of Steve Grimmett will welcome his new album with open arms and good to see a few songs trying new sounds and arrangements like 'Enemy' and 'Afterglow'. If you like classic metal/hard rock buy now!
****
Review by Jason Ritchie
---
| | |
| --- | --- |
| | Print this page in printer-friendly format |
| | Tell a friend about this page |