Great songs, great live band...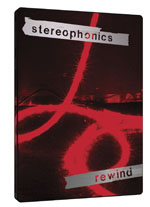 Love them or hate them there are two things that you cannot take away from The Stereophonics.
Number One, they write a great song. This is highlighted by the second of this two DVD set, over 30 live and rare performances of such classic hits as Maybe Tomorrow, The Bartender and the Thief, Mr Writer and Handbags and Gladrags - yes, some of this has been seen before on previous Stereophonics releases but we do get a never-before-seen acoustic concert from 2001, promoting Just Enough Education to Perform and three songs from the bands 2004 Isle of Wight performance.
This leads me to Number Two. The Stereophonics are one hell of a band live, I would even stick my neck out and say that they are one of the best live bands in the country right now.
Celebrating 10 years of the band, on the first DVD we get a documentary with a great insight into the group, everything is here - from first getting together, growing together and then tracking their career from the sending of the first demo tape right through to the success the band enjoys today. Success that is sure to continue with their next album, a 60 second preview of which is included on the DVD.
In addition to this wealth of footage is a brilliant 36-page colour booklet, which features many rare photos from the bands personal collection. This DVD is a must have for all fans of The Stereophonics and should set a benchmark for other bands thinking of releasing a DVD in the near future.
*****
Review by Nikk Gunns