STARCASTLE Song Of Times
ProgRock Records PRR380 (2007)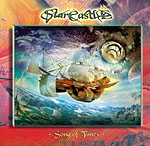 I'm always leery of reunion albums, typically, like movie sequels, they fall short of expectations. I'm happy to say that this is not the case with Starcastle's new CD Song Of Times (the first in over two decades!)
This is progressive rock at its finest - intricate melodies and rhythms, wondrous vocals, odd meters, virtuosic performances, and even a possible hit single if radio gives it a chance. Is this the album Yes never made? Maybe not, but the Yes influence is ever-present, as it has been from the inception of Starcastle .
The band was formed in the late 1960s in Champaign, Illinois and released four records on CBS/Epic Records between 1976-1978. Together these critically acclaimed albums have sold more than a million units worldwide.
Starcastle's latest epic Song Of Times is released on formidable U.S. label ProgRock Records, who's name says it all about the label's roster of tremendous 'progressive' talent.
Upon checking out the cover artwork, a fabulous design by Ed Unitsky, I immediately noticed in the liner information that Terry Luttrell, the original singer (and original REO Speedwagon vocalist) was only featured on 2 tracks (lead voice on track 8) The rest of the CD showcases new vocalist Al Lewis.
Although Luttrell's performance on "All For The Thunder" is as good as it gets, Al Lewis's voice is just as credible (it's evident both singers attended the school of Jon Anderson, just different classes)
Other original members of Starcastle that grace the CD include Gary Strater on bass, vocals and keyboards (Strater appears on every track), drummer Steve Tassler plays on a couple tracks, as does original keyboardist Herb Schildt and guitarist Steve Hagler.
The newer members, who dominate the bulk of the recordings are, as mentioned, Al Lewis on vocals and drums, Bruce Botts on guitar and vocals, John O'Hara and Neal Robinson on keyboards, Mark Mcgee on guitar and Jeff Koehnke and Scott McKenzie on drums.
Highlights from Song Of Times include the opening cut "Red Season", featuring dynamic performances from the entire band, especially Strater's archetypical bass riffing. Track two "Babylon " (and particularly the edited version included at the end of the disc) clearly has hit potential with its infectious melody, accented by Lewis's tremendous vocals.
In many ways it reminds me of a Journey track, yet I can't figure out which one!
The title track, "Song Of Times" is a real gem - this song could have fit easily on a Jon Anderson solo album as well as Yes's Tormato/Going For The One era recordings - it's so beautiful and captivating you wish the song would just go on and on (even if it is over six minutes long!)
Billy James talks to Mark Rubel who co-produced and mixed the new Starcastle album, and new vocalist Al Lewis...
It's been 2 decades since the last Starcastle album, why so long between releasing albums?
Mark: Well, it's a long story as you can imagine. The band was broken up for a time, and Gary had an alternate lineup in California with Bruce and other fellows, including Scott McKenzie and George Harp, with whom he wrote a number of the songs on the new CD.
After Gary returned to Champaign, he kept working on new material, and we would sporadically spend days overdubbing, or Gary would use weekends when I was out of town.
We ramped things up as Al Lewis came on board, and then had to go through Gary's illness and eventual passing. As you might imagine it took some time to regroup after that, and mixing and editing sessions then took place over a period of about two years!
Of course, the process of hooking up with the right label and coordinating artwork, promotion and release have also been time-consuming, and now- here we are!
Why does Terry Luttrell only sing lead on track eight?
Al: After a long period of searching, Terry decided not to be involved with this record. Terry had already sang on "Thunder". Gary wanted to pull that and have me re-sing it, but I said no. I felt that it was too important to the old fans. We then got Terry's permission to keep it on the record.
Al, how did you get involved with Starcastle?
After Terry's departure, Rob Laduca emailed me that Starcastle was looking for a new singer, and felt that I would be the perfect fit. It seems to be working...
How did you hook up with Oliver Wakeman?
Mark: I don't remember who made the initial contact, maybe someone else does. Oliver is on Prog Rock Records, but it wasn't through them that we made the connection. (Al: I emailed John Jowitt, and asked if he had a keyboardist that he would recommend... and that just fell into place.) We're very happy to be working with him!
Since the formation of Starcastle there has always been the Yes comparisons from the press, can you give us your feelings about this?
Al: I can honestly say that it was never an intentional thing.... it is just commonplace to compare... as in all things... and it is nice, to even be held to them, as to say, Britney Spears...
As for myself, my voice, it is what it is, like it or not... I just sing. For each song, trying to express the message and mood...it never enters my mind to sing like someone else...
What's in the future for Starcastle?
Mark: That remains to be seen. For the moment we're focusing on the ROSfest show and the release of Song of Times. The ROSfest show will be recorded, and there's a chance we may mix and release it. After that, it will be up to the band to decide how and whether the story continues.
Terry Luttrell's crystal clear voice on track eight sounds as if it was cryogenically frozen and thawed out just for these sessions - simply stunning.
Frankly, the whole damn record is excellent and highly recommended - Go buy this disc. Let's just hope they do another before the next decade!
On a sad side note, Gary Strater passed away in 2004, yet a dedicated group of friends and associates have persevered to complete and release Song Of Times.
On a happy note, the band will be playing a one-off performance in support of the new CD on April 27, 2007 at the Rites Of Spring Festival in Phoenixville, PA . On an interesting twist, after so many years of Yes comparisons, Rick Wakeman's son Oliver will accompany Starcastle on keyboards for this special one-time live event.
For more information on Starcastle visit: www.starcastlemusic.com and www.progrockrecords.com
****
Review by Billy James
Band website
---
| | |
| --- | --- |
| | Print this page in printer-friendly format |
| | Tell a friend about this page |