STACKRIDGE The Man In The Bowler Hat
Angel Air SJPCD232 (2007)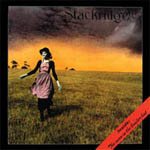 No tricky third album for this eccentric and individual pop/rock collective: 1974's career highlight is a small but perfectly formed body of work.
Producer George Martin lifts principal leads (and Beatles fans) Andy Davis and James Warren's capacity for a droll way with words and pastoral melody to new levels, tightening presentation without losing the immediacy and sparkle that trademarked their recorded output and, more importantly, popular live act.
This audience participatory singalong with dustbin lids and vegetables - the Bonzos on a day in the country - was framed by an arresting line-up: Warren, resembling a choirboy who'd been in a stately home's dressing up box, flautist and former factory worker Mutter Slater got up as a yokel, yokel Jim 'Crun' Walter got up as himself, Andy Davis (bassist on John Lennon's single 'Imagine') got up as Lennon, while classically-trained violinist Mike Evans was a tweed jacket with patches man.
This diversity of background (Davis had trimmed his monicker from the grander Cresswell-Davis) matched eclectic musical interests. Notwithstanding great tunes, from the sweet balladry of 'Humiliation' to the clopping nonsense of 'The Galloping Gaucho' topped by the sweeping orchestrated grandeur of closer, 'God Speed The Plough', the album failed to meet hopes and expectations in sales terms; the fall-out saw prinicipal members leave and the band was not to match this creative achievement again.
A strong set and a worthy reissue project even without bonus tracks (nothing in George's sock drawer but socks) and somewhat peremptory packaging, 'Man In The Bowler Hat' is in the top three Beatle-free productions cited in February 2007's Mojo Magazine feature on Martin - and quite right too.
****
Review by Peter Muir


£12.99
Fundamentally Yours
© 2007 Angel Air Records. All rights reserved.


£12.99
---
| | |
| --- | --- |
| | Print this page in printer-friendly format |
| | Tell a friend about this page |