SPOON Ga Ga Ga Ga Ga Anti 06900 (2007)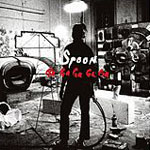 Hailing from Austin Texas, and taking their name from a song by German Krautrock pioneers Can, Spoon is living proof that there is room for indie art rock in the Lone Star state. The band have in fact been around for more than a decade now during which time they have been dropped by Elektra, an event that might in part explain the fierce sense of musical independence that permeates much of this splendid effort.
Released in Europe on the enterprising Anti label, 'Ga Ga Ga Ga Ga'- the title mirrors the use of sampled, repeated keyboard notes - is an album by a band on an upward curve whose music includes the kind of confident and unencumbered songs that are finally being matched by burgeoning sales. But curiously enough the songs themselves are often slow burners taking second place to a series of mood textures, grooves, fractured melodies and sonic experiments. On 'The Ghost of You Lingers' for example, the unlikely combination of an edgy repeated keyboard sample and some minimalist echo reverb on the mixed back vocals, creates an ambivalent ambience.
In vocalist Britt Daniel, Spoon has the requisite front man to bring emotion, passion and verve to a series of sometimes oblique but always interesting narratives. 'Ga Ga Ga Ga Ga' is full of poppy twists and turns that at times remind you of anyone from Edwyn Collins to Paul McCartney, and occasionally - as on the rapped out vocal style on both 'Eddie's Ragga' and 'Finer Feelings' - the Arctic Monkeys.
But this is a band that clearly enjoys multi tasking. Whether exploring the full sonic possibilities of the studio, or juxtaposing different and adventurous musical elements in an attempt to tease out their minimalist explorations, Spoon never lose sight of the bigger picture. They may frequently veer off in several interesting directions but they always find their way back to their own identifiable sound.
On the radio friendly 'You Got Yr. Cherry Bomb' the band use a characteristic layered sound and an echo laden vocal that is bolstered by some honking sax, insistent tambourine and judicious use of vibes. The song comes with a perfunctory finish that cleverly employs a voice and sound collage as part of the outro. Spoon's take on dance music may be eclectic and refracted, but it never loses sight of an essential hook. The hypnotic quality of the equally compelling 'Don't You Evah' suggests that this is a band for who the importance of feel will always triumph over format.
And while the Beatles are inevitably never too far removed from the best moments, with McCartney's bass lines frequently referenced, and elements of his song writing craft emulated on the poppy and infectious groove of 'Rhythm & Soul', Spoon are a band with a restless creative spirit that views different genres as potential possibilities rather than restrictions.
On 'The Underdog' the band add more horns to an acoustic composition that features the clever dichotomy of a jaunty melody line and more hand claps in stark contrast to the dark lyrics. Repeated plays brings further rewards on a fine album that might just see Spoon grab more than just the reflected glory of their stable mates The Arcade Fire.
****
Review by Pete Feenstra
---
| | |
| --- | --- |
| | Print this page in printer-friendly format |
| | Tell a friend about this page |