SPENCER DAVIS GROUP Official Bootleg/Unplugged Concert Classic
CD/DVD Store For Music SFMDP010(2007)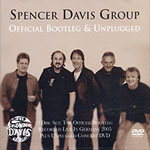 Bereft of the Winwood brothers, The Spencer Davis Group is to all intents and purposes built around the enduring talent of Miller Anderson on guitar vocals and Eddie Hardin on organ and vocals with occasional contributions from both Spencer and and Colin Hodgkinson.
The double CD/DVD format offers both electric and unplugged versions of the band, with the DVD possibly edging things if only because the songs are a bit more imaginatively chosen.
And while it is easy to pick holes in a set that includes 'Dust My Broom', 'Spoonful' and 'House of the Rising Sun', at least the DVD includes the lesser known single 'When I Get Home', and the original EP track 'Every Little Bit Hurts', sung superbly by Anderson.
But the biggest gripe here is that given the effort that has gone into this project, why not ditch the obvious blues cover stuff and redo such latter career classic as 'Time Seller' and Mr Second Class'? Of course the band play well, but its all a bit comfortable, with Hodgkinson on 'Walking Blues' in particular being very pedestrian, and Miller's solo piece 'Borderline' - reprised acoustically on the DVD - although superbly sung, should have had no place in a Spencer Davis Group set.
At least Eddie Hardin adds some pith with the signature Hammond on 'Gimme Some Lovin' on the CD set. Spencer himself was never a strong songwriter in the band but at least he does come up with two less familiar efforts on the DVD, the biographical 'Ain't Gonna Go', and the self explanatory 'Swansea Shuffle'.
He adds a humourous intro to 'Keep on Running', dedicating it to his ex managers, but in truth this double pack is so laid back, that any suggestion of exercise would seem out of step with an MOR effort that will in the main only hold appeal to the nether regions of a theatreland crowd.
***
Review by Pete Feenstra
Somebody Help Me
© 2007 The Store For Music. All rights reserved.
---
| | |
| --- | --- |
| | Print this page in printer-friendly format |
| | Tell a friend about this page |