The Mael Brothers bask in a career high...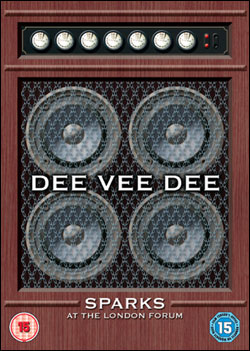 There can be few bands who deliver some of their very best work some 33 years after their initial commercial success. Sparks have in fact been going longer than that but 1974 was the year in which their unique music found a welcoming niche in the then exploding UK Glam scene. And if nothing else 'Dee Vee Dee' suggests that not only do the Mael brothers live up to their self professed aspiration to be unique and restlessly creative, but also that they have recently produced their best ever work.
For 'Dee Vee Dee' is in fact a memorable audio visual representation of their current masterpiece 'Hello Young Lovers'. And while the enigmatic Ron Mael is the genius behind both the lyrics music and a visual representation of both the startling album and show, Russell's spell binding vocal performance allied with his natural joy de vivre brings to life a body of work that brilliantly fuses rock, operetta and performance art.
Sparks have of course been in the vanguard of artistic innovation for nigh on 35 years, but like many artists before them the Mael brothers haven't always been consistently successful with their music, but as the career highlights in the second set suggest, they have never been afraid of taking on new musical challenges. Indeed Sparks aim to make 2008 a historic year when they perform all 20 of their albums in London in readiness to unveil their as yet untitled 21st album on what promises to be a climactic night for all concerned.
The material from 'Hello Young Lovers' sets the highest of standards and is simply mesmerising as Russell's clearly enunciated diction brings to life brother Ron's brilliant vocals and quirky musical arrangements; The concert opens and closes with the mock operatic and very bombastic 'Dicking Around', which along with the hypnotic 'Perfume' might easily be considered to be career highlights. On 'Metaphor' Russell brings to life's Ron's clever word play while R on's equally creative artistic side is brilliantly visually represented by a cat choir on 'Here Kitty' and some unlikely performer/film interaction on 'The Very Next Fight'.
As an audio visual experience Sparks are simply mesmerising and by the time of the more standard rock band second set, the band sweep through their own bewildering musical history, touching base with dance friendly techno of 'When Do I Get To Sing (My Way)' Russell's 1975 'Pineapple' from the 'Indiscreet' album and of course the magnificent hits 'This Town Ain't Big Enough For Both of Us' and Amateur Hour', both of which sounds unbelievably contemporary.
The DVD comes with some nice extras including some footage of the duo's trip to Japan and a brief but explanatory look at Ron's set drawing which spring to life so vividly as part of this wonderful and highly recommended live set.
*****
Review by Pete Feenstra